Doris Duke's Pair of Diamond and Pearl Ear Pendants
Open FREE Unlimited Store Join Our Newsletter
Origin of Name :-
The name refers to a pair of large pearl and diamond ear pendants whose design show distinct Indian influences, and was created by David Webb Inc. of New York in 1960, for the American tobacco heiress, philanthropist and art collector Doris Duke. The piece constitutes the only pair of pendants of its type, in the entire 399-piece jewelry collection, put together by Doris Duke during her life time. But, she also owned a pair of costume jewelry ear pendants that was almost identical to this pair and not easily distinguishable from the original, so much so that in her photographs it was hard to tell which pair she was wearing.

Even though we now refer to her personal jewelry as a collection, Doris Duke herself did not consider her jewelry as a collection, in the sense that she assembled her other collections, such as her invaluable collection of Islamic art or her Southeast Asian art collection, whose assemblage needed a lot of devotion, and consumed a lot of time, energy and money, and also involved a lot of foreign travel. Doris Duke did not undertake any foreign travel for the expressed purpose of buying jewelry, but during her extensive foreign tours, whenever she saw a piece that fancied her and suited her tastes she purchased it. She seemed to have developed a special liking for Indian jewelry, and during her frequent trips to India purchased a variety of jewelry, both antique as well as contemporary designs. Some of the antique jewelry she purchased in India were the 19th-century Arya necklace, 18-th century carved emerald and diamond gold pendant, late 17th or early 18th-century Champa Kali ruby and diamond cluster bracelet, 19-th century diamond, pearl and sapphire gold necklace. Among the contemporary pieces of jewelry that she purchased were the ruby, diamond and gold necklace, gem-set and enamel gold armlet, ruby pendant necklace etc. Doris Dukes jewelry collection is referred to as an "unintentional collection" partly inherited and partly acquired by her to suit her own tastes, as well as the fashion trends of the time, and containing pieces of sentimental value from important moments in her life. Perhaps out of her 399-piece jewelry collection, only her Indian jewelry might be called a "collection," because of their artistic, historic and scholarly value.
Characteristics of the pearl and diamond ear pendants
The pair of ear pendants designed by David Webb, in 1960, was made up of cultured drop-shaped pearls and baroque pearls as well as diamonds, set in platinum. The length of the ear pendants is 3.5 ins (8.9 cm ). Each pendant is made up of two parts, the ear stud which is fixed to the ear, and the pendant which dangles from it. The ear studs are designed in the form of rosettes or mosaics, set with diamonds. Each rosette has two whorls set with diamonds. The outer whorl has 12 petals and in the inner whorl has 9 petals.
The dangling pendant consists of a central large almost drop-shaped baroque pearl suspended by a bell cap arrangement, surrounded by a dangling drop-shaped or pear-shaped loop. The loop made up of platinum consists of a single row of 25 pear-shaped diamonds, with 11 almost drop-shaped smaller pearls hanging from its lower end. A single drop-shaped pearl is situated along the median line of the pendant, and 5 drop-shaped pearls on either side of the median line. In the photograph on the right ear pendant all the 11 drop-shaped pearls are intact. However, on the left ear pendant one of the drop-shaped pearls on the right half of the pendant is apparently missing, leaving only 10 drop-shaped pearls. Each of the 11 suspended drop-shaped pearls also carries a small round-shaped diamond placed just above the pearl.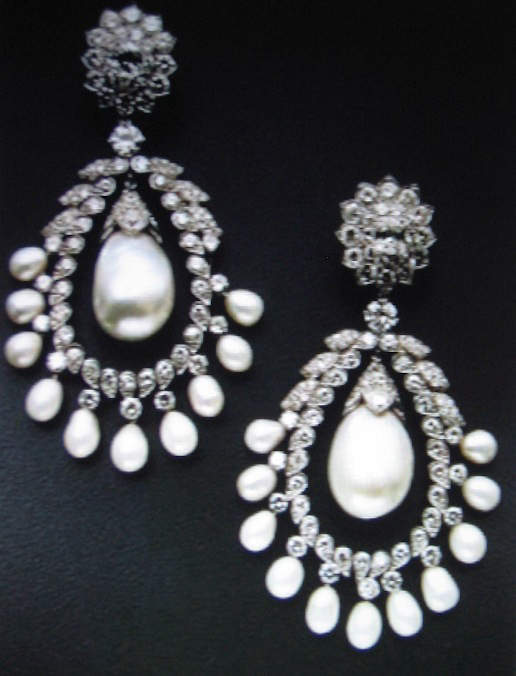 Doris Duke's Pair of Pearl and Diamond Ear Pendants,
© Doris Duke Charitable Foundation
The size and weight of the pearls are not known. The baroque shape of the central pearls and the near-baroque shape of some of the smaller drop-shaped pearls, are consistent with the shapes produced in cultured pearls. The white color of the pearls, is the most popular color among pearls. The luster, orient and surface qualities of the pearls are also excellent, and consistent with other cultured saltwater pearls.
The large size of the ear pendants is characteristic of jewelry produced in the 1960s. However, some of the features on the ear pendants clearly show a strong Indian influence on the design of the pendants. The diamond-set rosettes and the dangling diamond-set loops have features similar in design to other pieces of Indian jewelry in her collection.
History of the pearl and diamond ear pendants
History of Doris Duke's jewelry collection
Doris Duke who was the sole heir to a vast estate left behind by her father James B. Duke, had a passion for all things aesthetic, whether it was Islamic Art, Southeast Asian art, decorative arts, furniture, historic preservation, environmental conservation, horticulture, wild life conservation, or music and dance, the varied interests pursued by her during her life time, using the vast financial resources at her disposal. Knowingly or unknowingly she also had accumulated a vast collection of jewelry, that consisted of 399 pieces, part of which was inherited family heirlooms from her father, grandmother and mother, and others purchased by herself from well-known or not-so-well-known jewelers from New York and Paris, as well as significant quantities of antique and modern jewelry purchased by her during her frequent trips abroad - beginning with her round-the-world honeymoon trip in 1935 after her marriage to James Cromwell - particularly from countries like India and Thailand.
Doris Duke's preference for design in the choice of jewelry
When Doris Duke first began to buy jewelry, her choice of jewelry showed a clear preference for the design, rather than the intrinsic value of the big gemstones, for which her mother had a special preference. Thus unlike her mother she did not go for the big gems. This early preference for design in the choice of jewelry, was maintained throughout her lifetime whenever she purchased jewelry. Perhaps her line of thinking as reflected in her choice of jewelry, was that being the richest woman in the world there was no need for her to impress others
Jewelry houses patronized by Doris Duke
Some of the prominent jewelry houses she patronized were Cartier and Van Cleef & Arpels. She also patronized some of the lesser known, but upcoming jewelry designers from New York, such as Paul Flato, Fulco di Verdura, Seaman Schepps, and David Webb. These small time designers in the 1940s were the "cutting edge" designers, who were creating latest designs during that period. She often instructed her jewelers to refashion her old jewelry into modern styles, discarding the mountings but retaining the old gemstones. Sometimes she would ask her jewelers to design entirely new pieces of jewelry, to suit her own tastes, using the gemstones she had purchased during her travels abroad.
Gemstones become the focal point of jewelry in the second half of the 20th century and David Webb played a significant role in the popularization of jewelry with colored gemstones
After the 1940s Doris Dukes selection of jewelry took an unusual and interesting turn, characterized by distinct color contrasts, such as the suite of Hawaii flower jewelry created for her by Van Cleef & Arpels in 1947, made up of blue sapphires, red rubies and diamonds set in gold. In the second half of the 20th century, gemstones became the focal point of jewelry, and David Webb created bold sculptural jewels, set with colored gemstones, that came to symbolize the essence of the modern woman, who assumed a more dominant role in the workforce and needed jewels to reflect their own personality.
David Webb creates jewelry designs with distinct Indian influence for Doris Duke
In the 1960s, when Doris Duke was in her early fifties, she became a regular client of David Webb Inc. in New York City, selecting designs inspired by the east. She made use of David Webb's bold and colorful use of stones to create designs that suited her tastes, with a distinct Indian influence. For most of these designs Doris Duke provided the gemstones, or old jewelry to be refashioned into the new designs.
Indian inspired jewelry created by David Webb for Doris Duke
Some of the Indian inspired jewelry created by David Webb for Doris Duke include the following :-
1) A turquoise, sapphire and diamond bracelet set in gold and platinum purchased on May 8, 1965.
2) A pair of sapphire, turquoise, and diamond earrings set in platinum, created in 1969, with stones provided by Doris Duke, showing strong Indian influence of the Mughal period.
3) Turquoise, sapphire and diamond fringe necklace set in gold and platinum, created in 1965, with stones provided by Doris Duke.
4) Two-strand emerald-bead necklace with diamond spacers and clasp studded with diamonds, created in 1969 with stones provided by Doris Duke.
5) A pair of emerald-bead drops, with diamond-set scroll ear clips, purchased in 1957.
6) Ruby-bead and cultured pearl, Indian style, fringe necklace, re-fashioned from old jewelry provided by Doris Duke in 1969.
7) A pair of ruby bead drops with diamond studded bell caps created at the same time as the ruby-bead and cultured pearl fringe necklace above.
8) A graduated opal bead necklace and matching earrings, created in 1969, with stones provided by Doris Duke.
9) Diamond tassel clip brooch refashioned in 1957, from a bracelet given to Doris Duke by her mother Nanaline Duke in 1947.
Doris Dukes pair of pearl and diamond ear pendants is also a creation by David Webb
Earrings in the 1960s consisted of long and dangling ear pendants, instead of the small earrings of the 1930s and 1940s, that hugged the ear lobes. The pair of pearl and diamond ear pendants, which is the subject of this webpage is also a creation of David Webb, designed in 1960, and shows distinct Indian influence. The large size of the pendants is characteristic of jewelry from the 1960s. The cultured pearls used in the pendants, both the baroque and drop-shaped pearls were not provided by Doris Duke, but came from the company's own sources. The most probable source of these cultured pearls were either Japan, where the cultured pearl industry had been well established since the 1930s, or Australia, where the cultured pearl industry using the pearl oyster Pinctada maxima was first established in 1956 at the Kuri Bay farms by Nicholas Paspaley, in collaboration with a Japanese businessman Kuribavashi.
David Webb's career as a jewelry designer
His early life and training as a jewelry designer
David Webb was born and raised in Ashville, North Carolina, a county that has a long tradition of arts and crafts. He began designing jewelry at a very young age, starting work in his uncle's silver factory at the age of 14. The boy who was extremely talented, quickly picked up all the intricacies of jewelry designing and manufacture, within a short period of three years, and at the age of 17, moved to New York City, to pursue his craft.
Two different versions of the founding of David Webb Inc.
The first version
While at New York, David Webb had to look for a prospective investor who would wish to go into partnership with him to set up a jewelry business, so that he could assume the role of the jewelry designer, and apply the skills acquired by him as an apprentice designer at Ashville. There are two different versions as to how and when David Webb Inc. was established. According to one version as given in the official website of the company, davidwebb.com, David Webb Inc. was founded in 1948, by David Webb and Nina Silberstein. Thus, according to this version it was Nina Silberstein who provided the funding for the setting up of the company. Nina was an accountant, who raised the funds needed to start the business. Initially, while Nina ran the business, David Webb concentrated on the vital aspect of designing the jewelry, for which the company became famous both nationally and internationally. David Web Inc. is still run today by Nina Silberstein and her family.
The second version
According to a second version as evident from the New York Times obituaries, published on November 22, 1989, on the death of Antoinette Quilleret, who was born in Paris, and migrated to the United States in 1937, David Webb while at New York met the French lady , Antoinette Quilleret, and the two joined hands and went into business together in New York City, in 1945, and founded the David Webb Inc. It appears that the finances required for the venture was provided by Mrs. Antoinette Quilleret, who became the president of the company, while David Webb was concentrating on the designing of jewelry. Thus, according to this version the company was formed in 1945, and not 1948 as given in the first version. The news item further goes on to say that Mrs. Quilleret retired in 1963 and returned to Europe. She was 59 years old at the time of her retirement. She died of the complications of cancer at her home in Marbella, Spain, at the age of 85 years in 1989.
David Webb headed a team of dedicated jewelry designers who created classic pieces of jewelry that became the hallmark of the company
Whichever might be the correct version of the founding of David Webb Inc. what is important was that David Webb now got an opportunity to apply the skills that he acquired in designing jewelry, during his apprenticeship period of three years in Ashville, North Carolina. The exquisitely crafted pieces of jewelry by David Webb, soon caught the attention of jewelry connoisseurs in New York, as well as leading Department stores such as Bergdof Goodman. Eventually, as the popularity and sales of the company increased, David Webb brought together a team of dedicated jewelry designers and craftsmen, who worked under his close supervision and turned out the classic pieces of jewelry that became the hallmark of the company. A genius in his own field, David Webb often took time to sit with his artisans and discuss how he wanted a given piece of jewelry to be crafted, and no detail however small escaped his attention.
David Webb jewelry became closely associated with Hollywood stars, socialites and other celebrities
David Webb broke away from the traditional, ubiquitous white on white designs, such as diamonds on platinum, that became popular during the Belle Epoque period, and created bold designs with distinct color contrasts, using a variety of colored gemstones and enamel. His jewelry came to symbolize the essence of the modern woman who played a more dominant role in society and required jewels to assert her own personality. Thus David Webb's jewelry creations filled a void that was created by the modern woman's personal advancement. His jewelry became a medium to put across a message to society. Some of the earliest and biggest customers of David Webb came from Hollywood. Ava Gardner and Lana Turner wore his jewelry both on and off the big screen. His jewelry also became closely associated with socialites and celebrities such as Jacqueline Kennedy Onassis, Lee Radziwill, Elizabeth Taylor, Princes Grace of Monaco, the Duchess of Windsor, Doris Duke, Gloria Vanderbilt, and Nan Kempner. Elizabeth Taylor in her book "My Love Affair with Jewelry" has devoted four pages for David Webb jewelry, that forms part of her legendary collection.
Like other famous jewelry houses, David Webb has also been lending fine jewelry to leading actors and actresses taking part in the annual Oscar Awards ceremony. Morgan Freeman, who won an Oscar for the best supporting actor in 2005 for the film "Millennium Dollar Baby" wore David Webb platinum, black enamel, diamond and crystal shirt studs and cuff links, as he accepted his award to a standing ovation. Anna Roth, Freeman's stylist, who selected David Webb's jewelry for his client, commented, "It's not only quality of the workmanship, which is impeccable, the pieces are bold and unique. When you want to make an elegant statement you can count on David Webb."
At the 13th annual Elton John's AIDS Foundation Oscar party, held on February 27, 2005, in Los Angeles, California, Jane Seymour looked very elegant wearing a pair of David Webb's platinum and diamond earrings, and so also Aisha Taylor wearing a pair of Webb's platinum, pearl and diamond earrings. At the same party, David LaChapelle, fashion-photographer-turned-director, wore a David Webb yellow gold and chocolate brown diamond ring.
The inspiration for David Webb's jewelry designs. The most popular designs were animal and nature inspired.
David had a gift for jewelry designing. His creations were inspired by nature, mythology, his imagination and his own life experiences. He is best remembered for his animal and nature inspired designs. Some of his popular pieces with animal motifs include, the black and white enamel zebra bangle, with cabochon ruby eyes and tiny diamonds interspersed on its mane; animal cuff bracelets, with motifs such as interlocking dragons, roaring crocodiles, slumbering turtles, regal lions and green frogs crafted with gold and enamel, with eyes studded with colored gemstones. He used animal motifs for cuff links too, such as the nautilus cuff link. He also drew inspiration from ancient designs, creating pieces reminiscent of ancient Egypt, Greece and the Etruscan culture, and from the different periods of human history, up to the 18th and 19th century jewels from Jaipur, India. He also created Art Deco pieces, combining diamonds, enamel and South Sea pearls.
David Webb, the most prolific designer of the century
David Webb's unfortunate death in 1975 of pancreatic cancer at a young age, brought to a tragic end the illustrious career of a talented jewelry designer who gave to the world an incredibly rich, and diverse archive of bold, beautiful and intricate jewelry to be cherished and preserved for posterity. His impact on the jewelry trade can best be summed up by a comment made in the 1990s by Hidalgo, a multiple winner of "Jewelers of America Jewel Award" when he said, "Webb was, I think, the most prolific designer of this century, and I think unequalled."
David Webb's vision and legacy are carefully preserved by Nina Silberstein and her family
Today his vision and legacy are carefully preserved by Nina Silberstein, his business partner and her family. Every piece is still carefully crafted from start to finish by skilled artisans at a workshop located above the flagship Madison Avenue store. At David Webb every aspect of production, from design to stone setting to fabrication takes place under one roof, which ensures a high quality product. The family run business has at its helm, Nina Silberstein, the Chief Executive Officer, and her son Stanley Silberstein as President, and her daughter Sharon Silberstein as Vice President and Creative Director. In addition to its flagship location at 789, Madison Avenue, New York, David Webb Inc. has a salon in the Regent Beverley Wilshire Hotel in Beverley Hills.
David Webb files Chapter 11
According to a recent news report published on June 24, 2009, the 61-year old Madison Avenue based jeweler, David Webb, has become the latest company to file for Chapter 11 bankruptcy protection at the US Bankruptcy Court for the Southern District of New York in Manhattan. The company characterized as a "Silberstein Family Partnership" has assets listed as $10.3 million, and liabilities as $6.9 million. The gross sales of the company for the fiscal year ending June 30, 2008, were $13.2 million, and the total sales for the fiscal year ending June 30, 2009, were not expected to reach $5 million. The company's operating expenses for the next 30 days was estimated at $377,927 with expected sales of only $400,000.
A corporate resolution said that because "the Corporation has encountered serious financial difficulties in connection with its operations and is unable to make payment of the necessary debts and expenses being incurred by it in such operations, and in the opinion of the directors and officers, it is in the best interest of the Corporation and its creditors that the Corporation reorganize pursuant to Chapter 11 of the United States Bankruptcy Code."
You are welcome to discuss this post/related topics with Dr Shihaan and other experts from around the world in our FORUMS (forums.internetstones.com)
Related
1)Doris Duke's Pearl Bracelets
External Links
References :-
1) Gems From The East And West - The Doris Duke Jewelry Collection, Janet Zapata, Ulysses Dietz, Zette Emmons. Published by Doris Duke Charitable Foundation. 650, Fifth Avenue, 19th floor, New York.
2) David Webb Precious Jewels - Profile - www.davidwebb.com
3) David Webb Jewelry : More Than Just Vintage Appeal-The Luxe Chronicles. www.theluxechronicles
4) David Webb - The Cuff Linker - 2-4 July 2005. Archives at www.tias.com
5) David Webb Inc. files for Chapter 11 - News, June 26, 2009. Diamond World.net