Liberator Diamond
Open FREE Unlimited Store Join Our Newsletter
Origin of name
The Liberator diamond that was discovered in the Gran Sabana region of Venezuela in 1942, was named in honor of Simon Bolivar the 19th century liberator of Venezuela and other Spanish colonies of Colombia, Peru, Ecuador, and Bolivia, from the yoke of Spanish imperialism. The people of these countries fondly refer to him as El Libertador.
Characteristics of the diamond
The 155-carat rough Liberator diamond was an exceptional quality D-color diamond, that was eventually cleaved and processed into four faceted diamonds by Harry Winston, in 1944. Three of these diamonds were emerald-cuts having weights of 39.80, 18.12 and 8.93 carats, and the smallest diamond was a marquise-cut having a weight of 1.44 carats.

Being D-color the Liberator diamonds are most probably Type IIa diamonds, that are absolutely colorless. They are chemically pure and structurally perfect diamonds. In the absence of factors that impart color to diamonds, these diamonds are absolutely colorless. However they constitute only about 1-2 % of all naturally occurring diamonds.
History
Venezuela and Guyana two countries situated in the north of the South American continent, had been famous as commercial sources of alluvial diamonds. Both industrial and gem-quality diamonds have been recovered from the gravels of the river basins of Venezuela and Guyana. In Venezuela diamonds have been mostly found along the Paragua and Caroni rivers. Good quality crystals have been found mainly from the Guanaimo region and Gran Sabana region, in the Bolivar Province of Venezuela.
The exceptional quality 155-carat Liberator rough diamond was discovered by three miners in 1942, from the Gran Sabana region of the Bolivar Province of Venezuela. The diamond was acquired in 1943, by the New York based internationally famous diamond dealer and jeweler Harry Winston, founder of the Harry Winston Inc. of New York.
In 1944, Harry Winston entrusted the cutting of the rough diamond to Adrian Grasselly, an expert diamond cutter, who studied the rough stone extensively for at least two months, before embarking on the actual cutting. At first he cleaved the diamond into two unequal pieces weighing 115 carats and 40 carats. Further cleavings resulted in four pieces, which were eventually transformed into four exceptional quality diamonds. The largest diamond was a 39.80-carat, emerald-cut stone of exceptional clarity. The second and third largest diamonds were 18.12 and 8.93 carats respectively, and were both emerald cuts. The 4th diamond was only 1.44 carats and was a marquise cut. The total weight of the finished diamonds was 68.29 carats, resulting in a loss of 86.71 carats, which is equivalent to a percentage loss of 56 %. Such losses are inevitable in the processing of rough diamonds in order to eliminate all inclusions and to maximize the quality of the products. Quality in diamonds is usually achieved at the expense of quantity.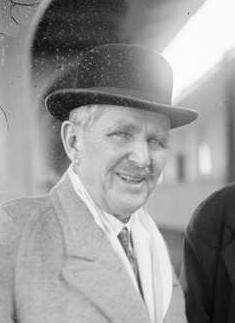 Frederick Bonfils
The three smaller stones were set by Harry Winston on an elaborate clip. The largest of the Liberator diamonds the 39.80-carat emerald-cut stone was sold by Harry Winston in 1947 to Mrs. May Bonfils Stanton, daughter of Frederick Bonfils, owner of the Denver Post, who was heiress to the Denver Post fortune.
Mrs May Bonfils Stanton
Mrs. May Stanton had shown an interest in jewels since early childhood and assembled a famous collection of jewels and jewelry. Her collection included a diamond necklace studded with twelve emeralds weighing 107 carats. Other notable items were the Liberator diamond and the legendary Idol's Eye diamond. The Idol's eye was set as a pendant to a diamond necklace containing 41 round brilliants and 45 baguettes with a total weight of 34.50 carats. She is reported to have worn this necklace every morning for breakfast. The house in which she lived the "Belmar Mansion", was an exact replica of Marie Antoinette's Petit Trianon palace in France.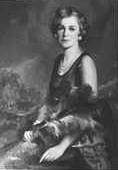 Mrs. May Stanton
Mrs. May Stanton was not only a collector and connoisseur of jewels and jewelry, but also artifacts, sculptures and paintings. The estate in which her house was situated covered an area of 750 acres. She was first married to Clyde Berryman from whom she separated in 1947, and later in 1956 married her long-time friend Charles Stanton. She was also a philanthropist who supported many charitable causes in her native state of Colorado. After her death in 1962, her husband Charles Stanton set up the Bonfils-Stanton Foundation, to support various charities, and other non-profit organizations involved in the areas of Arts and Culture, Community Service, and Science and Medicine.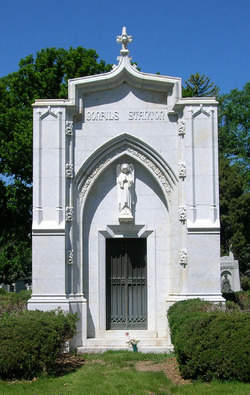 Grave of May Stanton
After May Stanton's death in 1962, the part of her estate constituting jewels and jewelry, were put up for auction by Parke-Bernet Inc. of New York. Harry Winston then re-acquired the Liberator diamond at this auction for a sum of $ 180,000. He then mounted the diamond on a platinum ring, with tapering diamond baguettes.
Simon Bolivar - The Liberator
Simon Bolivar was borne in Caracas, Venezuela, on July 24th 1783. He was born to wealth and position being the son of a Venezuelan aristocrat of Spanish descent. He lost both his parents when he was young, and came under the care of his uncle. He was sent to Europe at the age of 16 to complete his education. He lived in Spain for three years, and in 1801 married the daughter of a Spanish nobleman, with whom he returned to Caracas. Unfortunately, barely an year after her marriage she died of yellow fever, a disease endemic to that region. In 1804 he returned to Europe, and in Paris, he met his childhood tutor Simon Rodriguez, who introduced him to the writings of European nationalist thinkers such as Voltaire, Rousseau, Helvetius and others. Such writings had a great influence over him, and helped to instill in his mind the idea of independence for Hispanic America.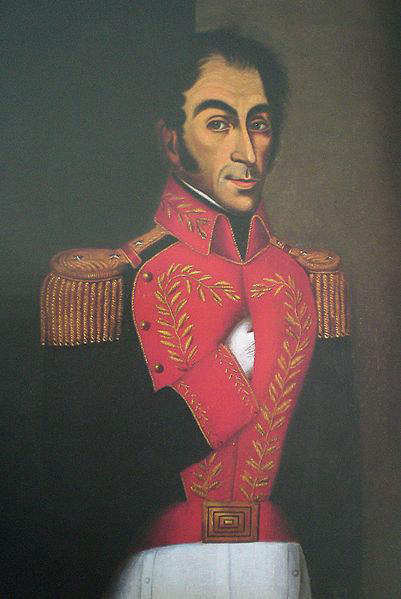 Simon Bolivar
He returned to Venezuela in 1807 and in the following year launched the Latin American independence movement. Around this time Napoleon's invasion of Spain, had weakened Spain's authority, and Simon Bolivar took advantage of this situation, expelled the Spanish Governor in 1810, and declared Venezuela's independence in 1811. Bolivar now joined the army of the young republic and was placed in charge of Puerto Cabello, a port vital to Venezuela. However, the Spanish were able to take control of the country again in 1812, and Bolivar escaped to Cartagena in Colombia. While at Cartagena he published the EL MANIFIESTO DE CARTAGENA a political document that urged revolutionary forces to destroy the power of Spain in Venezuela.
Simon Bolivar organized an expeditionary force while at Cartagena, and as commander led his forces against the Spanish Army and defeated them in six pitched battles, and regained control of the Capital of Venezuela. He entered Caracas on August 1813, and was given the title of Liberator. He then assumed the leadership of the country as a dictator. but, again in 1914 he was defeated by the Spanish with the help of the cow boys (Ilaneros) led by Jose Tomas Boves. Bolivar now took refuge in Jamaica, where he published his second document LA CARTA DE JAMAICA, the letter from Jamaica, in which he expressed his dream of several independent constitutional republics through out Hispanic America to replace the existing colonial order, with a bicameral parliament, consisting of a hereditary upper house and an elected lower house and a president chosen for life. His idea of a life president was perhaps motivated by his desire for political stability, for these newly formed republics in order to achieve rapid development.
The Spanish sent a large expeditionary force in 1815, to suppress the growing independence movements. Simon Bolivar turned to the Americans and the British for help, but was turned down. Later he sought assistance from newly independent Haiti, which was readily granted, in the form of money and weapons. He engaged the services of thousands of foreign soldiers that included the British and Irish, and in 1819, conducted the most daring attack in military history, that sought to capture New Granada (Columbia), through flood-swept plains and snow-covered mountains, and took the Spanish by surprise, and in the battle that followed the bulk of the Spanish army surrendered to Simon Bolivar. New Granada was liberated and Simon Bolivar was unanimously elected President of the new Republic of Colombia, that also included Venezuela and Ecuador as a Federation. However Venezuela and Ecuador were still under Spanish rule. A revolution in Spain saw the decline of the absolute monarchy and recognition of more liberal ideals. This discouraged the Spanish soldiers in Latin America from continuing the fight. In 1821 Bolivar liberated his homeland Venezuela after defeating the demoralized Spanish forces in battle.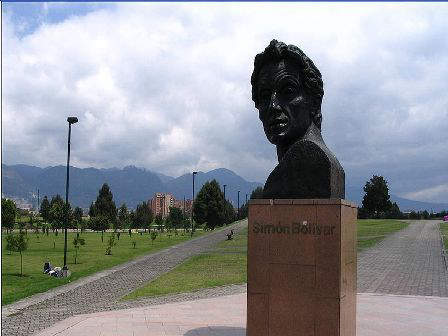 Simon Bolivar Park, Bogota ,Colombia
Bolivar entrusted the Federation to his Vice-President Santander, and continued his military campaign to liberate Ecuador. In June 1822, he was able to liberate Ecuador with the help of his brilliant officer Jose de Sucre. At Quito, the Capital of Ecuador, he met his future partner in life, Manuela Saenz, a fellow revolutionary and fighter. Having liberated the three territories of Colombia, Venezuela, and Ecuador, Bolivar turned his attention to Peru. His forces marched into Lima in 1823, but the Spanish forces had retreated to the safety of the mountains east of Lima. It took Bolivar about an year to assemble a formidable army, horses and mules, that could undertake an assault on the mountainous stronghold of the Spaniards. In 1824, his army ascended the hills and on December 9, 1824, the Spanish forces surrendered to Bolivar after their defeat in battle.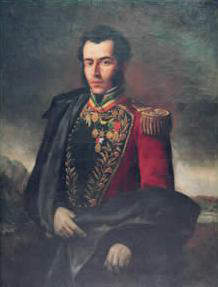 Jose de Sucre
Bolivar was now the President of The Colombian Federation and Peru, and only upper Peru was still under the control of the Royalist forces. He entrusted the capture of upper Peru to his able commander Sucre, who finished the job by April 1825. The people of upper Peru were so pleased by the liberation of their state by Bolivar, that they decided to call their new nation Bolivia.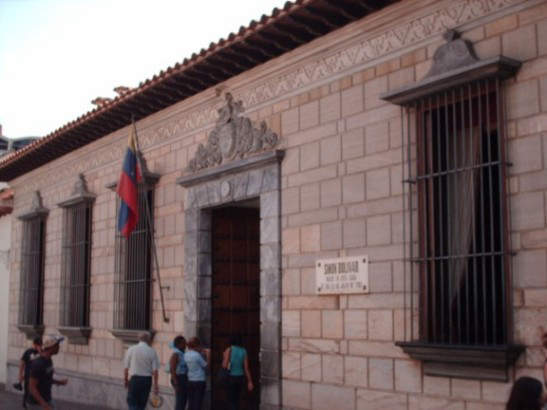 Birthplace of Simon Bolivar
Bolivar's dream of binging in all the newly independent nations into a federation failed due to mutual suspicions, disunity, and the personal ambitions of local leaders. Bolivar was completely disheartened by the ingratitude of his former generals and adherents. He left Bogota in May 1830, hoping to take refuge in Europe, but later abandoned his plans when his able general Sucre, whom he trained to succeed him was assassinated. Bolivar was invited by a Spanish admirer, to his estate in Santa Marta, to spend his days of retirement. He accepted his invitation and settled in Santa Marta with his beloved wife Manuela Saenz.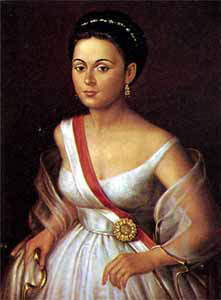 Manuela Saenz
However, by the end of 1830, he fell seriously sick and died of tuberculosis, ironically in the house of a Spaniard, with whom he had fought many bitter wars.
We do not have a photograph of the Liberator diamond. Please let us know if you have a photograph.Alternatively you can upload the photograph to our forums.
You are welcome to discuss this post/related topics with Dr Shihaan and other experts from around the world in our FORUMS (forums.internetstones.com)