Malachite Jewelry Gallery
Open FREE Unlimited Store Join Our Newsletter
What is Malachite?
Malachite is a greenish mineral that is composed of copper carbonate. Malachite can also occur in combinations with other minerals. The word malachite is derived from the Greek word "Mallos" which refers to a green paints.

Malachite Ear Drop Jewelry
What are the uses of Malachite?
Malachite can be cut and polished and set as jewelry. Malachite can also be carved to produce ornaments. Malachite is a favorite mineral for carving.
Where is Malachite found?
Russia, Congo, Australia, Zaire, Namebia, England and USA.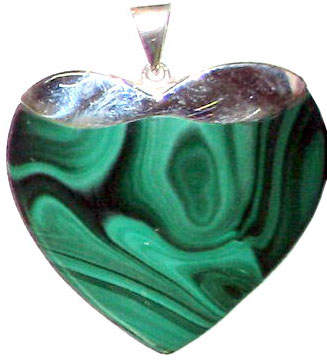 Malachite Ear Drop Jewelry
Is Malachite a wedding anniversary gemstone?
Yes, Malachite is the gemstone for the 13th wedding anniversary.
Is Malachite a hard gemstone?
No Malachite is a soft fragile mineral, protect it from falls. Never use an ultrasound cleaning machine to clean malachite jewelry.
Does Malachite have any Metaphysical Properties?
Since ancient times malachite was thought to possess special mystical powers. It is thought that the wearer will become aware of impending danger. Malachite is also thought to help the cells of the body to regenerate.