The Marilyn Monroe Pearl Necklace
Open FREE Unlimited Store Join Our Newsletter
Origin of name
The 16-inch cultured Akoyal pearl necklace, consisting of a single strand of 44 Mikimoto pearls from Japan, gets its name from its one time owner Marilyn Monroe, the most beloved star in the history of Hollywood, whose beauty, charisma and lasting appeal, propelled her into the status of an international celebrity and icon, becoming one of the most famous and most adored women in history. The celebrated necklace was a gift from her second husband Joe DiMaggio, the base ball legend, who purchased the necklace from Mikimoto, in Japan, while on their honeymoon in 1954. The necklace is now part of the valuable collection of pearls and pearl jewelry belonging to Mikimoto (America) Co, Ltd. and had been exhibited in many countries around the world, as part of the worldwide traveling exhibition sponsored by the American Museum of Natural History, New York, in collaboration with the Field Museum, Chicago.

Characteristics of the pearl necklace
At the time Marilyn Monroe received the pearl necklace as a honeymoon gift from her husband Joe DiMaggio, a single-stranded white pearl necklace was the height of the fashion, in the United States as well as in Europe. Apart from the fact that the Marilyn Monroe Pearl Necklace is a single-stranded 16-inch cultured Akoya pearl necklace, made up of 44 Mikimoto pearls, other detailed characteristics such as average size, shape, luster, surface quality, color, overtones etc. of the pearls are not known. The necklace is still preserved in its original oval box in which it was presented to Marilyn by Dimaggio in 1954, and displayed in this same box, whenever it was exhibited to the public at the "Pearls - A Natural History" traveling exhibition co-sponsored by the AMNH, New York and the Field Museum, Chicago.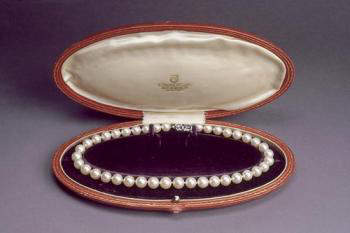 Marilyn Monroe Pearl Necklace
The shape of the pearls are undoubtedly spherical as seen from the photographs of the necklace. Akoya cultured pearls produced by the pearl oyster Pinctada fucata martensi, known as the Akoya oyster, are renowned for producing consistently round or near-round pearls, making it easier to find matching pearls for strands and bracelets. Yet one may need a large number of pearls, when matching for both shape and size, and still larger numbers when matching for color. overtones, luster, and surface characteristics. Thus an Akoya pearl necklace with perfectly matched pearls in respect of all important qualities can still be a rarity, fetching a correspondingly higher price.
The color of the Akoya pearls in the necklace appear white, which is a common color of Akoya pearls, the other common color being cream. The overtone colors of the pearls are not known, but normal overtone colors in Akoya pearls are rose, silver or cream. The luster and surface qualities of the pearls are also not known, key characteristics that are used by Mikimoto in the grading of their pearls.
Classification of pearl necklaces according to the length of the strand. The Marilyn Monroe Pearl Necklace is a choker
Mikimoto pearl necklaces are divided into six categories depending on the length of the strand.
| | | |
| --- | --- | --- |
| S/N | Length of strand in inches | Category |
| 1 | 10"-13" | Collar |
| 2 | 14"-16" | Choker |
| 3 | 18"-20" | Princess |
| 4 | 20"-24" | Matinee |
| 5 | 28"-34" | Opera |
| 6 | >37' | Rope |
The choice of a pearl necklace will depend on the woman's age, body composition and the neck size. However, an average length of 18" to 24" would suit many women. The "Marilynn Monroe Pearl Necklace" having a length of 16" falls under the category of a "Choker" under this classification. The choker is the most popular length, suitable for both formal and casual occasions. The princess at around 18" is the longer version of the choker, and the Matinee at around 22" is the usual length for daytime wear. The most common length for formal wear, that may sometimes consist of two strands, is about 28" - 34" and known as "Opera."
Mikimoto's pearl grading system
Mikimoto's pearl grading system as applied to pearls produced by the company, such as Akoya pearls, South Sea pearls and the black Tahitian pearls, is based on two important characteristics of pearls that determine their quality and value. These are the luster and surface quality of the pearl.
Luster
Luster refers to the reflective quality or brilliance of the pearls surface, and is a measure of the quality and quantity of light that reflects from the surface, and just under the surface of the pearl. Luster of a pearl depends on both the quality and quantity of nacre deposited. A thick layer of nacre deposited as even layers produce the best luster, and this depends on how long the pearl was allowed to develop within the oyster. The durability of luster also depends on the thickness of the nacre, a thick nacre producing a better and more durable luster. Thus the time allowed for nacre to develop in a cultured pearl is crucial for its future quality and value.
Surface quality
Pearls are creations of nature, and therefore flaws and blemishes on their surface are common place, and a proof of their genuineness. However, pearls are considered to be more valuable, when the surface imperfections are minimal. Thus based on the quantity of blemishes on the surface, we can have grades of pearls such as blemish free, minimally blemished, very slightly blemished, and slightly blemished. Surface quality in the Mikimoto grading system is equivalent to "complexion," one of the five virtues used in the Paspaley grading system.
Based on luster and surface quality Mikimoto recognizes four main grades of pearls. These are AAA, AA, A+ and A, from the highest to the lowest grade. Each main grade is divided into a sub-grade, giving four sub-grades AAA1, AA1, A+1, and A1, where the No.1 represents a slightly more blemished surface.
Summary of the Mikimoto Grading System
Main Grade

Luster

Surface quality
Sub- Grades
AAA

Exceptional mirror-like reflection

Blemish-free surface
AAA
Minimally blemished surface
AAA1
AA
Superb clear reflection
Very slightly blemished
AA
Slightly blemished
AA1
A+
Very good, clear reflection
Very slightly blemished
A+
Slightly blemished
A+1
A
Good clear reflection
Very slightly blemished
A
Slightly blemished
A1
It is not known under which grade and sub-grade the pearls of the Marilyn Monroe pearl necklace fall, but given the fact that only 5% of the cultured pearls produced in Japan, qualify to be categorized under Mikimoto Pearls, used exclusively for the production of their high quality pearl jewelry, the Marilyn Monroe pearls undoubtedly possess a substantial quality grading, which when taken together with the unique provenance of the necklace, make it an invaluable and most famous piece of jewelry, that would be the envy of all collectors, who would go to any length to take possession of. Little wonder that Marilyn Monroe's other valuable possession, the diamond and platinum eternity wedding band set with 36 baguette cut diamonds, sold for $772,500 at a Christie's auction in 1999, which was 15 times greater than the pre-sale estimate of $50,000. Historical provenance usually enhances the value of jewels and jewelry, but this is one rare example where provenance has a value far exceeding that of the article itself, sometimes referred to as the sentimental power of Marilyn Monroe.
What are Hanadama Pearls ?
The term "Hanadama" refers to a superlative grade of pearls
"Hanadama," which in the Japanese language means "spherical flower," is a name introduced by Kokichi Mikimoto himself, the founder of the cultured akoya pearling industry in Japan, to indicate the percentage of highest quality and most highly valued akoya pearls harvested by the world's best known pearl companies. "Hanadama" denotes a superlative grade of pearls, the highest quality that can ever be achieved in cultured akoya pearls, and may represent less than 1% of the total annual production, which explains both the scarcity and high values of their strands.
"Hanadama" certification done by Pearl Science Laboratory of Japan
A "lot" of pearls or strand of pearls can be certified to be "Hanadama" only by a competent scientific laboratory based on random tests to determine the depth of nacre, the luster and imperfection grade of the pearls. In Japan, "Hanadama" certification is done by the Pearl Science Laboratory of Japan, based in Tokyo. Only strands of pearls that are accompanied by an original "Hanadama" certificate can be considered to be "Hanadama."
Methods of examining the pearls
The pearls are examined in the Pearl Science Laboratory by the following methods :-
1) Magnification
2) Spectro Photometric Reflectance
3) Inner inspection by optical fibre
4) Soft X-ray
The Imperfection grade known as "Kizu" in Japanese, is determined by magnifying the pearl's surface and checking for blemishes and inclusions. Characteristic growth marks of pearl layers are also recognized by magnification. All pearls have some degree of imperfection, being creations of nature, even though such imperfections may not be visible to the naked eye. Therefore, the Peal Science Laboratory of Japan, have not left provision for a "perfectly flawless" imperfection grade, as such a grade does not simply exist in nature. The "Hanadama" certificate provides for three levels of imperfection :- very slightly, slightly and some, the minimum imperfection grade being "very slightly."
The depth or thickness of nacre layers is determined by inner inspection using optical fibers and soft X-ray apparatus. The "Hanadama" certificate indicates the thickness of pearl layers on a linear scale starting with a minimum of 0.1 mm and increasing by regular intervals of 0.1 mm, as 0.2, 0.3, 0.4, 0.5, 0.6 etc.
Luster is determined by spectrophotometric reflectance and using the TERI-value analysis. The results of the TERI-value analysis is indicated by four grades :- very strong, strong, medium and weak.
Conditions necessary to be satisfied for "Hanadama" certification
For a pearl strand to be certified as "Hanadama" it should have the following characteristics :-
1) The Imperfection Grade or "Kizu" must be the lowest - "very slightly" - for all randomly tested pearls.
2) The nacre depth or thickness should be equal to or greater than 0.40 mm for all randomly tested pearls.
3) The TERI-value grade for the luster must be "very strong" for all randomly tested pearls.
Due to the stringent conditions laid down by the Pearl Science Laboratory, it is not surprising to find that out of the pearl strands submitted annually for "Hanadama" certification, only approximately 50% meet the required criteria for certification, and others are rejected. Thus when purchasing a "Hanadama" certified Akoya pearl necklace, one can rest assured that he or she is undoubtedly purchasing the world's finest pearls. Hanadama certification is a guarantee for top quality Akoya pearls, equivalent to the triple A grade - AAA - of the Mikimoto grading system.
History of the pearl necklace
A short biography of Kokichi Mikimoto
Birth and early childhood
Kokichi Mikimoto who is considered to be the father of the modern cultured pearl industry, was born in Toba City, in Shima Province, the present-day Mie prefecture, in Japan, in 1858, and was the eldest son of a noodle restaurant owner. He was forced to leave school at the age of 13, and sold vegetables to support his family. His fascination for pearls started in his childhood, when he often visited the shores of Ise, and saw the pearl divers unloading their treasures.
Farming of pearl oysters and research into the culturing of pearls by seeding
In the year 1888, at the age of 30 years, Mikimoto secured a loan, and together with his wife Ume, started his first pearl oyster farm at the Shinmei inlet on Ago bay in the Mie prefecture. Even though he had never had the training of a scientist, he was convinced that pearl oysters could be induced to create pearls, by creating the same conditions that led to the formation of a chance pearl under natural conditions. This led to a period of intensive experimentation, studying the formation of natural pearls, seeding thousands of oysters with different seeding material, providing suitable conditions for the post-seeding growth of the oysters, etc. that lasted almost five years, with repeated failures that almost pushed Mikimoto to the brink of bankruptcy.
Creation of the world's first hemispherical pearl in 1893, and obtaining a patent for their production in 1896. Opening of first Mikimoto store in 1899.
The final breakthrough came on July 11, 1893, when in the company of his wife, he raised one of the bamboo oyster baskets out of the water, and opened one of the oysters, and to his amazement and great relief found a shining hemispherical pearl. Spurred by this success, he continued to develop the technique of culturing hemispherical pearls known as "mabe" and was granted a patent for their production in 1896. The pearl oyster species cultivated by Mikimoto was Pinctada martensii. Ago Bay had an area of approximately 1,000 acres, and Mikimoto cultivated around a million oysters in the bay, that produced a harvest of 30,000 to 50,000 "mabe" pearls annually. In 1897 he introduced these "mabe" pearls to the world, at a marine products exposition in Norway, and clinched a deal for the export of these cultured pearls. In 1899, Mikimoto opened the first pearl store in Japan, in the fashionable Ginza district of Tokyo selling cultured "mabe" pearls and natural seed pearls.
Mikimoto successfully cultures a spherical pearl in 1905, but the method is not commercially viable. Nishikawa and Mise return to Japan from Australia.
Mikimoto continued his research into the culturing of pearls, with particular emphasis on culturing a spherical pearl. However it took him another 12 years of perseverance and hard work to culture the first spherical pearls, that were in every respect similar to the highest quality natural pearls. That was in the year 1905, but the technique was not commercially viable. Around this time two Japanese, a biologist Tokishi Nishikawa and a carpenter Tatsuhei Mise, had returned to Japan, after spending time in Broome, Western Australia, where Japanese pearl divers were employed for harvesting South Sea pearl oysters, Pinctada maxima, from their natural oyster beds off the coast of Western Australia. Broome was internationally renowned at that time as the center of the mother-of-pearl production. The first attempts to grow cultured pearls in Western Australia were made in the 1890s, by a pioneer of the pearling industry G. S. Streeter, who grew cultured pearls in Roebuck Bay in Broome, but proved to be economically unviable. Research continued into the culturing of pearls in Western Australia, in which a British marine biologist William Saville-Kent was also involved. Tokishi Nishikawa and Tatsuhei Mise had worked with the British marine biologist, and learnt the techniques of culturing spherical pearls. The West Australian Government was not keen in encouraging research activities on the culturing of pearls, as the mother-of-pearl industry was well established and bringing in large returns to the government. In fact the government introduced legislation that prohibited the production, selling and possession of cultured pearls.
Mikimoto adopts Mise-Nishikawa method in successfully culturing spherical pearls
After returning to Japan Mise and Nishikawa applied for a patent for producing spherical pearls in Japan, using William Saville Kent's method, which was granted in 1907, and came to be known as the "Mise-Nishikawa" method. In this method a piece of the oyster epithelial membrane (lip of mantle tissue) is inserted with the nucleus of shell into the oysters body or mantle which causes the tissue to form a pearl sack. The sack produces nacre, which coats the nucleus producing a pearl. Mikimoto who had been working independently in Japan trying to culture a spherical pearl, and had been partially successful, finally adopted the Mise-Nishikawa method in 1916 and successfully cultured spherical pearls, a method that proved to be commercially viable. This was the greatest breakthrough in the history of the Japan's cultured pearl industry, that enabled the expansion of the industry, and it was reported that by 1935 there were 350 pearl farms in Japan, producing 10 million cultured pearls annually.
Mikimoto opens the first overseas store in London in 1913, and a farm for growing black-lipped pearl oysters in Okinawa in 1914
Based on his own partial success in culturing pearls Mikimoto had already expanded into the overseas market by opening the first overseas stores in London in 1913. After his initial successes in culturing spherical pearls, Mikimoto, who had always been enchanted by the beauty and mysterious glow of the pearls produced by the black-lipped and silver-lipped oysters, decided in 1914 to open a farm for the black-lipped pearl oyster Pinctada margaritifera on Ishigaki Island in Okinawa. However it was not until 1931 that he was first able to produce a giant pearl measuring 10 mm in diameter.
Consumer resistance for cultured pearls in the 1930s and steps taken by Mikimoto to overcome them
The expansion of the cultured pearl industry in Japan, with a rapid increase in the number of farms, resulted in overproduction of cultured pearls by 1935, which in turn had a drastic effect on the prices which fell sharply. In an effort to counteract falling prices, Mikimoto promoted Japanese cultured pearls in the United States and Europe, and as a publicity stunt burnt tons of low quality pearls in 1932, to drive home the point that Mikimoto deals only with high quality cultured pearls. After initial consumer resistance caused by the mistaken notion that cultured pearls were not real, which was largely overcome by intensive promotional exercises and education of the consumer, coupled by the fact that cultured pearls were more affordable than the scarce natural pearls, eventually convinced people to accept cultured pearls as authentic. However, vested interests continued to level allegations against Mikimoto, that his pearls were only cheap imitations of the real natural pearls, despite scientific reports to the contrary. Mikimoto took upon himself the task of refuting such allegations, and took advantage of every opportunity to personally promote his pearls, by taking part in international exhibitions.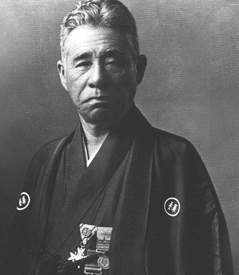 Kokichi Mikimoto
Mikimoto personally promotes cultured pearls by taking part in international exhibitions
In 1926, he took part in the Philadelphia World Exposition, in which he displayed a replica of a five-storey pagoda covered with cultured pearls. In 1933, he took part in the Chicago World Fair, and exhibited a model of George Washington's residence covered with cultured pearls. At the Paris Exposition held in 1937, he displayed the "Wheel of Arrows" (Yaguruma), covered with cultured pearls. Again in 1939, Mikimoto took part in the New York World Fair, where he displayed a replica of the "Liberty Bell" covered with pearls. Mikimoto's efforts in promoting cultured pearls was a given a big boost in 1930, when he was invited to the Imperial Palace of Japan and honored as one of the top ten Japanese inventors. The public relations exercises he carried out by taking part personally in international exhibitions and displaying his different pearl creations soon paid off, and cultured pearls were accepted as authentic, and quickly became very popular.
Mikimoto becomes the first Japanese brand to attain an international presence and recognition
After World War II, Mikimoto further expanded his business, by opening a series of Mikimoto stores in the main cities of the United States, such as New York, Chicago, Boston, Los Angeles and San Francisco, and also other cities such as Paris in France, Shanghai in China and Mumbai in India. Thus Mikimoto became the first Japanese brand to attain an international presence and recognition.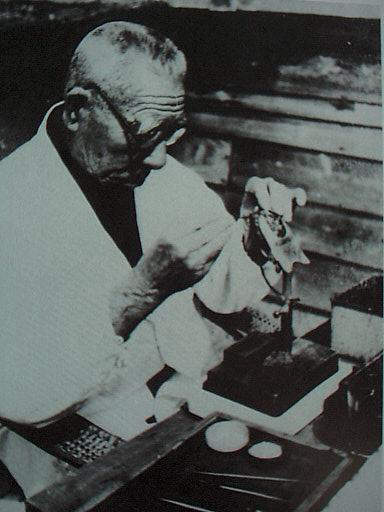 Kokichi Mikimoto
Mikimoto's death in 1954
Kokichi Mikimoto died on September 21, 1954, at the age of 96. Just before his death he was awarded the Order of Merit by the Japanese Government. After his death he was posthumously awarded the Grand Cordon of the Order of the Sacred Treasure.
Mikimoto's dream realized
Shortly after Mikimoto succeeded in culturing a perfectly round pearl, he said, "I would like to adorn the necks of all the women of the world with pearls." What prompted him to make such a challenging statement that appeared unachievable at that moment was that previously wearing pearls was the exclusive preserve of women of the royalty, aristocratic families, and the elite in society. Adorning with pearls was a status symbol, a costly practice of the well-to-do in society, given the exorbitant prices of natural pearls. By expressing a desire to adorn the necks of all women of the world with pearls, Mikimoto was prophesying the future, the day when pearls would be cultured with ease, and become affordable to all sections of society. As predicted Mikimoto was able to culture many varieties of pearls, such as Akoya, South Sea, and Black Tahitian pearls, and present them to women around the globe at affordable prices, before his death in 1954.
The successors of Mikimoto have continued to build on the achievements of Kokichi Mikimoto, and today the company has matured into a truly international chain of stores, selling the highest quality products for which Mikimoto had been famous since their inception in 1899, and setting standards worthy of emulation by all other international pearl dealers.
Pinctada martensii - Classification
Kingdom - Animalia
Phylum - Mollusca
Class - Bivalvia
Order - Pterioida
Family - Pteriidae
Genus - Pinctada
Species - martensii
Alternative species names - fucata, imbricata, radiata
Common names - Akoya pearl oyster
Gulf pearl oyster
Atlantic pearl oyster
Ceylon pearl oyster
The fucata/martensii/radiata/imbricata species complex
The four species of Pinctada, Pinctada martensii (Akoya-gai pearl oyster), Pinctada fucata (Akoya pearl oyster), Pinctada radiata (Gulf pearl oyster) and Pinctada imbricata (Atlantic pearl oyster) although classified as different species previously, have now been found to belong to the same species, as they have the same genetic profile and similar morphological characteristics. The four species fucata/martensii/radiata/imbricata are known as a species complex, which represent components of a cosmopolitan, globally distributed species, with specific locally adapted traits. Cross breeding between the four species produces fertile offspring, showing that the four different species, actually belong to one and the same species. In the mid-1990s after the mass scale deaths of Pinctada martensii in the Japanese pearl farms, Pinctada imbricata was introduced into the Japanese waters to save the perliculture industry. Another species that was used to recoup the industry was the Chinese Akoya pearl oyster, Pinctada chemnitzii, also related to the species complex. Thus the pearl oysters used for the production of Akoya pearls in Japan today are hybrids of martensii and imbricata, and martensii and chemnitzii.
Pinctada species used in perliculture today
The Genus Pinctada under the family Pteriidae and order Pterioida have a large number of pearl oyster species, but only around four or five species have great commercial value, and are used in Perliculture today. The table below gives the natural range of these oyster species and the type of pearls produced by them. Pinctada radiata is still given as a separate species even though it is closely related to Pinctada fucata/martensii/imbricata species complex.
Pinctada species of commercial value and their distribution
S/N

Pinctada species
Common name
Distribution

Type of pearls produced

1
Pinctada radiata
Gulf-pearl oyster
Persian Gulf, Red Sea, Gulf of Mannar
Silvery white, cream, and light pink pearls; also occasionally yellow, brown, and violet
2
Pinctada margaritifera
Black-lip oyster
Persian Gulf, Australia, Fiji, Tahiti, Myanmar, Baja California
Black South Sea pearls or Tahitian pearls
3
Pinctada maxima
White-lip oyster, Gold-lip oyster
Myanmar, Indonesia, Philippines, Australia, Fiji, Tahiti
White and Golden South Sea pearls
4
Pinctada fucata (martensii, imbricata)
Akoya pearl oyster, Atlantic pearl oyster
Japan, China, Korea Venezuela, Colombia, Bermuda, Persian Gulf, Australia
Mohar oriental pearls, Akoya cultured pearls
5
Pinctada albina
Smaller Australian oyster or Shark Bay pearl oyster
Australia, Philippines, China, Vietnam, Korea, Micronesia
yellow and small pearls

Species used for culturing blister pearls
Cultivation of Akoya pearls
The Akoya cultured pearl production cycle consists of four main steps. These are :- 1) Raising or breeding of oysters in farms 2) Seeding 3) husbandry or grow out period 4) Harvesting
1) Breeding of pearl oysters
The pearl oyster species previously bred for culturing Akoya pearl oysters was Pinctada martensii, native to the southeast Pacific coast of Japan and extending north to the southern coast of Korea. Pinctada martensii commonly known as Akoya-gai had been used for over a century in Japan for the culturing of Akoya pearls, starting from the days of the pearl pioneer Kokichi Mikimoto in 1890. But in the mid-1990s a devastating viral disease wiped out whole populations of Pinctada martensii, spelling disaster for the Japanese pearl culture industry. To recoup the pearl industry, the Japanese imported several related species of Pinctada, that were resistant to the viral disease, and one of them was Pinctada chemnitzi from China. Today the species used for the cultured pearl industry, both in Japan and China, is a hybrid of Pinctada martensii and Pinctada chemnitzi.
The Pictada species is a protandric hermaphrodite, the bivalve mollusks being bisexual, but in its development behaving first as a male and later in life as a female. Therefore in a given population the younger and smaller oysters are males and the older and larger oysters are females. However the approximate ratio of male to female in a given population is 1 : 1. Fertilization is external, taking place in the surrounding water after the male and female oysters have released their sperms and eggs into the water. The fertilized eggs hatch into free-swimming larvae which develop into spats in about 20-25 days, Under natural conditions the spats settle on the reef and attach themselves to the coral reef or rocks by their byssal threads, an attachment that is retained throughout the life of the oysters. Under farm-bred conditions the spats are transferred at a certain stage of their growth to net baskets, which are submerged in the sea, and nurtured with great care until they reach maturity in 1-2 years. Growth of all stages of oysters, whether larvae, juveniles or adults are affected by three important environmental factors. These are 1) water temperature 2) availability of nutrients 3) salinity. The presence of these factors in optimal conditions whether in natural or farm-bred environment, encourages the growth of phytoplankton, which is the main source of food for the growing oysters. Thus in farm-bred conditions the three factors are maintained in optimal conditions, until the juveniles grow into adults.
2) Seeding of oysters
The oysters that have reached maturity are now ready to be implanted with the nucleus. Insertion of the nucleus into the oyster is a very delicate process and carried out with the utmost care, in order to reduce the stress placed on the oysters to a minimum. The nucleus used for seeding the oysters are obtained from the shell of the Pig-Toe (Amblema plicata) freshwater mussel found in the beds of the Mississippi River in the United States. Incidentally, it has to be mentioned, that for any type of pearl culturing in the world, whether Akoya, South Sea, or Black Tahitian, the only type of nucleus. that has been found by scientists to be most suitable, are the ones obtained from the shells of different freshwater mussel species found in the Ohio and Mississippi River basins. The value of U.S. mussel shell exports to Japan to serve the cultured pearl industry stood at around $50 million annually in the 1990s. It has been found that the pig-toe shell has genetic properties similar to the Akoya oyster, and this reduces the chance of the nucleus being rejected by the oyster. Each of the mature oysters is implanted with a nucleus created from the pig-toe shell in the shape of a round bead, and a small piece of mantle tissue from a sacrificial oyster.
3) The husbandry period or growout period
The seeded oysters are then returned to their marine environment, placed in wire-mesh baskets and hung from long floating rafts. The wire-mesh baskets while protecting the oysters from their natural enemies, help to monitor their growth and keep the oysters in good health, by regularly cleaning their surface to remove marine growths that can harbor parasites and diseases. The waters in the husbandry area are monitored constantly, and the rafts moved if necessary to avoid extreme temperature changes, red tides and other situations that can endanger the well-being of the oysters. The husbandry period during which the oyster as well as the pearl grows in size, lasts from 2 to 3 years, depending on the size and the quality of the pearl desired. A longer husbandry period ensures the formation of a thicker nacre and a better quality pearl. The thickness of the nacre is crucial for some important properties of the pearl, such as luster, iridescence or orient, and overtones, that will eventually determine its quality and value.
4) Harvesting
After careful nurturing of the seeded oysters for 2-3 years, the wire-mesh baskets are lifted from their marine environment and brought ashore. The oysters are then opened one by one and the cultured pearl is retrieved from inside the oyster. This is a most exciting period for the staff of the farm who had been working tirelessly for 2-3 years in carefully nurturing the seeded oysters. The fruits of their hard labor will be revealed to them only during the harvesting exercise, and give them a sense of relief and happiness, to know that the oyster had responded in kind to the careful and gentle treatment meted out to them during the long husbandry period of 2-3 years. Post harvest procedures such as cleaning, mild tumbling if necessary, sorting and grading will then follow.
Marilyn Monroe's marriage to Joe DiMaggio in 1954
In the year 1951, Joe DiMaggio, the baseball legend, saw a picture of Marilyn Monroe with two Chicago White Sox players. The picture so captivated him that he fell in love with Marilyn even before he had opportunity of meeting her in person. He waited patiently until after his retirement from baseball in 1952, and then sought a date with her, which she agreed to after initial reluctance. The couple fell in love and began dating regularly for the next two years, until on January 12, 1954, Joe proposed to Marilyn and she accepted. Two days later on January 14, 1954, Joe and Marilyn went to the San Francisco's City Hall, to get married in a secret ceremony, to which they had invited only six guests. The news of the impending marriage had been leaked to the press, and the ceremony which was meant to be a low key one, with only six invited guests, turned out to be a sensational one, with more than a hundred adoring fans, journalists and photographers in attendance. The couple were dressed in a simple fashion for the occasion, with Marilyn wearing a simple chocolate gown, and Joe a simple blue suit and sporting the same tie that he wore on their first date.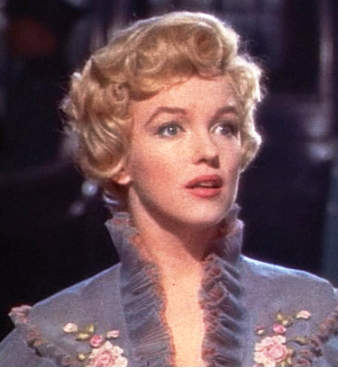 Marilyn Monroe
Joe DiMaggio's gifts to Marilyn Monroe on the occasion of their wedding and honeymoon
On the occasion of the wedding Joe presented to Marilyn a diamond and platinum "eternity ring" a fiery and sparkling ring that served both as an engagement and wedding ring. The ring was set with 36 baguette cut diamonds. This ring was one of the only two pieces of authentic high class jewelry that Marilyn Monroe ever owned during her colorful and short screen career.
Shortly after their wedding the couple went on a honeymoon trip to Japan. It was during this trip that Joe DiMaggio purchased the 16 inch single-strand Akoya pearl necklace from Mikimoto in Japan, and presented it to Marilyn as a honeymoon gift. Around this time a single stranded pearl necklace was the height of the fashion among ladies both in the United States and Europe. The Akoya pearl necklace was the only other piece of authentic high class jewelry that was owned by Marilyn Monroe. All other jewelry owned by Marilyn Monroe was just cheap costume jewelry. Perhaps, the reason why she did not care to own or wear expensive high class jewelry, was her self confidence that flowed from the extraordinary beauty that nature had endowed her with, which required no artificial enhancement and made the wearing of high class jewelry superfluous and unnecessary.
Causes that led to the divorce of Marilyn and Joe just nine months after their marriage
Marilyn's marriage to DiMaggio unfortunately lasted only nine months, in spite of the fact they courted each other for almost two years and were deeply in love with each other. Before their marriage, when the press confronted her, after getting to know of their relationship, she said, "I don't know if I'm in love with him yet, but I know I like him more than any man I've ever met." Strains were placed on their relationship almost immediately after their marriage, when they went to Japan on their honeymoon, when Marilyn took time to perform for the servicemen stationed in Korea. Marilyn's presence almost caused a riot among the troops, and Joe was clearly uncomfortable with thousands of men ogling his new bride. Joe became jealous of his wife, as Marilyn's fame as an actress and sex symbol skyrocketed. Joe and Marilyn were desperate to settle down and lead a normal family life, but Marilyn was lured by fame, as she was in the prime of her career, and had nurtured ambitions of reaching greater heights. DiMaggio also attended the studios at times when Marilyn was due for shooting and appeared to be disgusted witnessing some of the scenes that were shot. Thus Marilyn's busy acting career appeared to be placing a lot of strain on their relationship, and reached a breaking point only 274 days after their wedding, when she announced she would seek a divorce. On October 27, 1954, Marilyn and Joe were divorced, which both of them attributed to a conflict of careers.
Marilyn's third marriage to Arthur Miller and their subsequent divorce
Marilyn took a short break from Hollywood in 1955, and moved to New York City, where she enrolled in Lee Strasberg's Actor's Studio, to study acting, with the intention of pursuing serious acting. She started her own motion picture company in 1956, under the name Marilyn Monroe Productions, which produced two films, "Bus Stop" and "The Prince and the Showgirl" in which she demonstrated her talent and versatility as an actress. Marilyn married her third husband playwright Arthur Miller on June 29, 1956. They both traveled to England for the shooting of "The Prince and the Showgirl" in which she co-starred with Sir Laurence Olivier. On their return from England it was discovered that Marilyn Monroe was pregnant, but unfortunately her pregnancy was ectopic and was aborted to save her life. A second pregnancy also ended up in a miscarriage. These misfortunes in her personal life perhaps caused serious mental worries, from which she sought solace by taking to alcohol and drugs. Her addiction to alcohol and drugs had a serious impact on her married life, and led to her marriage with Arthur Miller being broken up, a divorce being granted on January 24, 1961.
Joe DiMaggio makes up with Marilyn Monroe at her time of need in February 1961
Marilyn's mental instability led to her admission to the psychiatric ward of the Payne-Whitney Clinic in Manhattan, on February 4, 1961. Joe DiMaggio who heard about her illness rushed to the hospital, and after six days got her transferred to the Payne-Whitney Psychiatric Clinic, at the New York Presbyterian Hospital. Her condition improved dramatically and she was out of hospital on March 5, 1961. She then joined Joe DiMaggio in Florida, where he was batting coach for his old team, the New York Yankees. Their close association again fired rumors of a remarriage, and in fact it was reported later that Joe quit his job with a military post-exchange supplier on August 1, 1962, in order to return to California, and ask Marilyn to remarry him.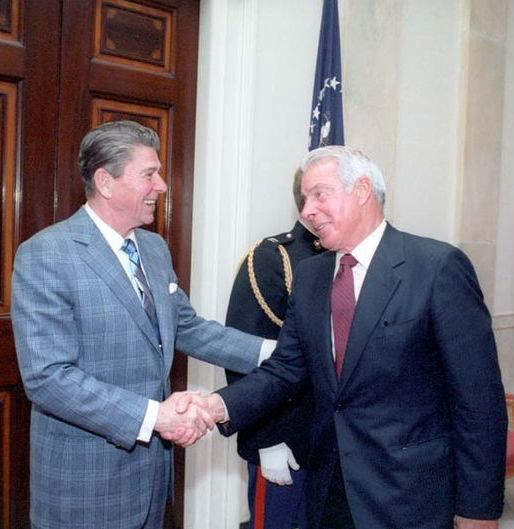 Joe DiMaggio meets president Ronald Regan in 1981
Marilyn Monroe sings Happy Birthday Mr. President at a televised birthday party for President John F. Kennedy
In May of 1962, Marilyn was invited to a televised birthday party for President John F. Kennedy at Madison Square Garden, at which she sang Happy Birthday, Mr. President. She wore a full length evening sheath dress of flesh-colored souffle gauze for the occasion, designed by Jean Louis, and covered with 6,000 rhinestone beads and sequins, which subsequently fetched a record $1, 267,500 at the auction of Marilyn Monroe's personal items. President John F. Kennedy was so taken up with her rendition of "Happy Birthday, Mr. President" that she thanked her by saying, "I can now retire from politics after having had "Happy Birthday" sung to me in such a sweet, wholesome way."
Marilyn Monroe's untimely death in 1962, and Joe DiMaggio's symbolic expression of his undying love for Marilyn
On August 5, 1962, the news that shocked the entire world, came out from Brentwood, California, where Marilyn Monroe had a home. The heart-throb of millions of fans around the world was no more. The shocking news of her death and the grief that it generated was felt all around the world, transcending international boundaries, and all other man made barriers such as language, ethnicity, color, creed etc. Truly she was an international citizen adored by millions around the world.
Marilyn Monroe was found dead in her bedroom at age 36 from an overdose of barbiturates. Her body was discovered by her housekeeper Mrs. Eunice Murray, who was assigned to her care by her psychiatrist, Dr. Ralph Greenson. Her death which appeared to be a case of suicide, sparked off endless conspiracy theories, which led to a formal investigation in 1982 by the Los Angeles County District Attorney, who came up with the verdict that there was no evidence of foul play. Joe DiMaggio who had planned to remarry Marilyn Monroe was devastated, and claimed her body and arranged for her funeral. For the next 20 years, Joe DiMaggio had a dozen red roses delivered three times a week to her crypt, symbolic of his undying love for the woman who first entered his life.
The fate of the Marilyn Monroe Pearl Necklace
Marilyn left her personal belongings to her acting coach and mentor, Lee Strasberg, who ran an acting school in New York City. The Strasberg family kept Marilyn's items archived for almost 40 years, before they were auctioned at Rockefeller Center in 1999. She gave her 16-inch Mikimoto Pearl Necklace containing 44 Mikimoto pearls, to Paula Strasberg, wife of Lee Strasberg. Paula Strasberg gave the necklace to her daughter Susan Strasberg, from whom Mikimoto acquired the necklace in 1998. The Marilyn Monroe Pearl Necklace still preserved in its original oval jewelry box is now part of the valuable collection of pearls belonging to the Mikimoto Company, and has been exhibited around the world as part of "Pearls- a Natural History" traveling exhibition.
Marilyn Monroe was bedecked with jewels during promotional campaigns
Even though Marilyn Monroe did not see the need to own first class jewelry during her colorful acting career, the jewelry manufacturers, and companies producing other merchandise, saw great potential in her beauty and charm and her worldwide popularity, to push their products in the international markets. Marilyn Monroe was without doubt the ultimate symbol of glamour, and the personification of beauty and stardom. Her name and image thus became a priceless brand, whose potential was recognized by companies everywhere to add value to their campaigns and products. Jewelry manufacturers bedecked Marilyn with the most expensive of jewelry, set with diamonds, pearls and other expensive gemstones, that was given to her on loan during public appearances and promotions.
During one such promotional campaign for the movie "Gentleman Prefer Blondes" Marilyn Monroe wore the famous 24.04-carat, pear shaped yellow diamond, the "Moon of Baroda" as a pendant to a necklace. The diamond which originally weighed 25.95 carats, belonged to the royal family of Baroda, in northwestern India, and was said to have been looted by Nadir Shah the mighty conqueror of Iran in 1739, but later returned to Baroda, where it remained for almost 200 years with the royal family, until 1943, when it was purchased Meyer Rosenbaum of Detroit. The "Moon of Baroda" was auctioned by Christie's in 1991, and Marilyn Monroe wearing the diamond in 1954 for the promotional campaign, added to the colorful history of the diamond. The strategy of celebrities wearing jewelry set with diamonds and other precious stones, loaned to them by their manufacturers, at international events such as the Oscars, as a means of promoting the sale of such jewelry, has now become a well established practice.
Marilyn's advertising potential exploited even after her death
Marilyn's advertising potential was exploited to the full before her death, and even after her death the commercial value of her image has not diminished. On the contrary her popularity has surged after her death, and so do the strength of her personality as an advertising symbol. Some of the great names in the international trade such as Mercedes Benz in the United States, Levi's jeans in Japan, Chrysler in Germany, and Nestle in the United Kingdom, had used Marilyn's face in their promotional campaigns. Others that have used Marilyn's image for large-scale international promotions include American Express, Visa and Iberia Airlines.
Mikimoto uses Marilyn Monroe's image for their promotional campaign
Mikimoto also made use of Marilyn's image for their promotional campaigns. Mikimoto released in the United States and Japan, limited edition pearl necklaces, produced in memory of Marilyn Monroe, and designed after her own Mikimoto Pearl Necklace given as a gift by Joe DiMaggio, which is now the valued possession of the company.
You are welcome to discuss this post/related topics with Dr Shihaan and other experts from around the world in our FORUMS (forums.internetstones.com)
Related :-
References :-
1) Akoya Pearls - www.pearl-guide.com
2) Hanadama Akoya Pearls - www.pearl-guide.com
3) Japanese Akoya Pearls - www.pearl-guide.com
4) Hanadama Pearls - From Wikipedia, the free encyclopedia
5) Mikimoto Kokichi - From Wikipedia, the free encyclopedia
6) Kokichi Mikimoto - www.pearl-guide.com
7) Kokichi Mikimoto, History - www.mikimotoamerica.com
8) Birth of a Pearl - www.mikimotoamerica.com
9) Qualities of a Pearl - www.mikimotoamerica.com
10) The Mikimoto Grading System - www.mikimotoamerica.com
11) Pearls : A Natural History - website of the Royal Ontario Museum
12) Marilyn Monroe - Diamonds are a Girl's Best Friend - www.diamondsourceva.com/Education/CelebrityDiamonds
13) Marilyn Monroe Biography - From Wikipedia, the free encyclopedia
14) Pinctada martensii - www.pearlguide.com
15) Marilyn Monroe Official Website - www.marilynmonroe.com