May

Birthstone-Emerald
Open FREE Unlimited Store Join Our Newsletter
Emerald
Emerald is the May Birthstone. The name emerald is derived from the Greek word Smaragdus, meaning Green.It belongs to the Beryl group of minerals composed of a silicate of Beryllium and Aluminium. The green color of the stone is due to small quantities of Chromium Oxide and Vanadium Oxide associated with the crystal lattice. The color can vary from various shades of green to bluish green.


Emerald is one of the earliest known gem stones in the history of mankind. They are known to have been mined in Ancient Egypt by the Pharaohs between 3000 to 1000 years B.C.Emeralds were also known and mined during the Inca Civilization of South America. The Indian Holy Scriptures "The Vedas" also make reference to Emeralds and their healing properties.

Emeralds were the favourite gems of the Indian Royalty, as they were believed to bring good luck and well being to their owners. The Mogul Emperors of India had large collections of valuable emeralds. The Iranian Royal Family also had valuable collections. Emeralds belonging to the Turkish Sultans form part of the exhibits in the Topkapi Museum at Istanbul.

The present day sources of emeralds are Brazil and Columbia in South America, Nigeria, Zambia, Zimbabwe, Madagascar and South Africa in the African Continent, Afghanistan, Pakistan and India in Asia, Russia and Australia.

Fine emeralds are very rare and may be rarer than fine diamonds. Today Columbia ranks as the top producer of fine emeralds. Quality wise Colombian fine emeralds are the best in the world with a sparkling green color devoid of any bluish tint. The Zambian emeralds are deep green in color with good transparency. They are darker than the Colombian emeralds, and usually contain a slightly bluish tint. Brazil also produces good quality fine emeralds in different shades of green. Extremely rare star emeralds and cat's eye emeralds have also been found in Brazil.

Traditionally emeralds are used to indicate the 55th Anniversary of an event. This is because emerald is a rare gem and 55th Anniversaries are also very rare.

The green color of emeralds symbolizes rebirth, like spring time which comes round again and again, and wearing one gives the wearer good luck, well being and youthfulness.
Rough Emerald

Faceted Emerald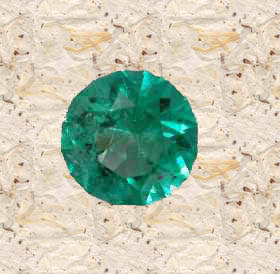 You are welcome to discuss this post/related topics with Dr Shihaan and other experts from around the world in our
FORUMS (forums.internetstones.com)