Paragon Diamond - Famous Diamonds
Open FREE Unlimited Store Join Our Newsletter
Origin of name
The name Paragon is the name given by the owners of the diamond, the world renowned Graff Diamonds of London. The color, clarity, cut and brilliance of this diamond are extraordinary, and worthy of the name, appropriately chosen for this unique diamond. Indeed the Paragon Diamond is a "model of excellence" in the fascinating world of diamonds. According to "The Book of Diamonds" written by Joan Younger Dickinson, with an introduction by Harry Winston, and first published in 1965, by Crown Publishers, New York, the term paragon had been used previously to refer to a perfect diamond, totally flawless and without any inclusions, with a minimum weight of around 12 carats. However, presently to qualify for this title a diamond, apart from being both internally and externally flawless, should have a weight exceeding 100 carats. Graff's Paragon diamond with a weight of 137.82 carats, and the highest color and clarity grades of D-color and internally flawless, with a rare and unique 7-sided cut, without any doubt qualifies for this rare title.

Characteristics of the diamond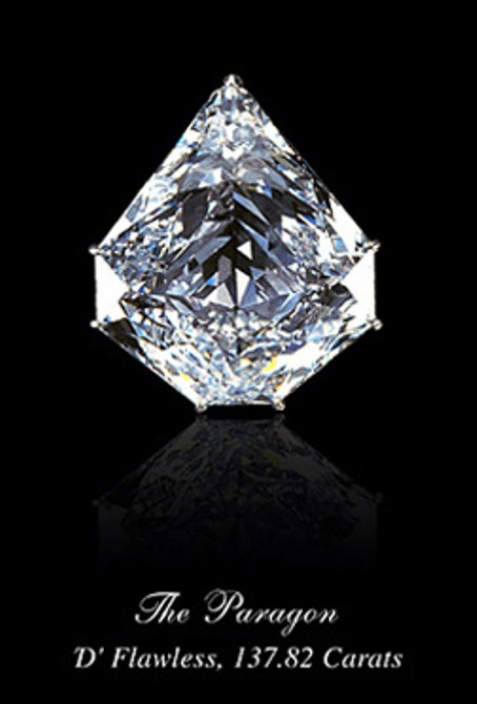 The Paragon Diamond
© Graff Diamonds
The Paragon diamond is a 137.82-carat, D-color, flawless (IF) diamond with a unique 7-sided cut (kite).
The diamond is a type IIa diamond, being a D-color diamond. These diamonds are Nitrogen free or contain undetectable quantities of Nitrogen. They are said to be chemically pure. The crystals of these diamonds are also free of any plastic deformations. They are said to be structurally perfect. Being chemically pure and structurally perfect, these diamonds are absolutely colorless and are known as top-color or D-color diamonds.
The Paragon diamond is perhaps the 10th largest D-color faceted diamond, the 5th largest D-color, internally flawless diamond and the largest 7-sided kite-shaped diamond in the world. See table below.
List of famous white diamonds greater than 100 carats in weight
| | | | | |
| --- | --- | --- | --- | --- |
| S/N | Name | Carat Weight | Color/Clarity | Shape/Cut |
| 1 | Cullinan I | 530.20 | D-color, not known | pear |
| 2 | CullinanII | 317.40 | D-color, not known | cushion |
| 3 | Centenary | 273.85 | D-color, IF | modified heart |
| 4 | Jubilee | 245.35 | E-color, VVS2 | cushion |
| 5 | Millennium Star | 203.04 | D-color, IF | pear |
| 6 | La Luna | 200.07 | | heart |
| 7 | Orlov | 189.62 | D-color, IF | rose |
| 8 | Jacob-Victoria | 184.50 | | oval |
| 9 | Regent | 140.64 | D-color, IF | cushion |
| 10 | Paragon | 137.82 | D-color, IF | 7-sided |
| 11 | Premier Rose | 137.02 | D-color, IF | pear |
| 12 | Queen of Holland | 135.92 | D-color, IF | cushion |
| 13 | Zale Light of Peace | 130.27 | D-color, VVS1 | Pear |
| 14 | Niarchos | 128.25 | D-color, VVS1 | Pear |
| 15 | Portuguese | 127.02 | Not known, IF | asscher |
| 16 | Jonker | 125.35 | D-color, not known | emerald |
| 17 | Al-Nader | 115.83 | | pear |
| 18 | Taj-i-Mah | 115.06 | | moghul |
| 19 | Edna Star | 115.00 | | emerald |
| 20 | Koh-i-Nur | 108.93 | D-color, not known | oval |
| 21 | Mouawad Magic | 108.81 | D-color, IF | emerald |
| 22 | Cartier | 107.07 | D-color. IF | pear |
| 23 | Star of Egypt | 105.51 | | emerald |
| 24 | Mouawad Splendor | 101.84 | D-color, IF | pear |
| 25 | Star of America | 100.57 | D-color, IF | asscher |
| 26 | Star of Happiness | 100.36 | D-color, IF | radiant |
| 27 | Star of the Season | 100.10 | D-color, IF | pear |
History
The Paragon rough diamond was mined in Brazil, sometime during the last decade of the 20th-century (1990s). Early history of the diamond, such as the mine of origin, the date of discovery, the circumstances surrounding the discovery, the weight of the rough stone etc. are all unknown, but the present owners of the diamond are the world renowned diamond and jewelry dealers and manufacturers, the Graff Diamond Company of London. Laurence Graff purchased the rough diamond in Antwerp, Belgium, and under his supervision and guidance transformed the rough diamond into an unusual 7-sided, kite-shaped diamond, the largest of its kind in the world. What prompted Laurence Graff to select such an unusual shape and cut for the diamond was perhaps, the shape of the original rough stone and its superior clarity and the desire to preserve as much as possible of the stone to obtain a final product of more than 100 carats. The diamond was cut and polished by his company's specialized processing center for the cutting and polishing of exceptionally large diamonds, based in Antwerp, and manned by a highly experienced team of 30 experts.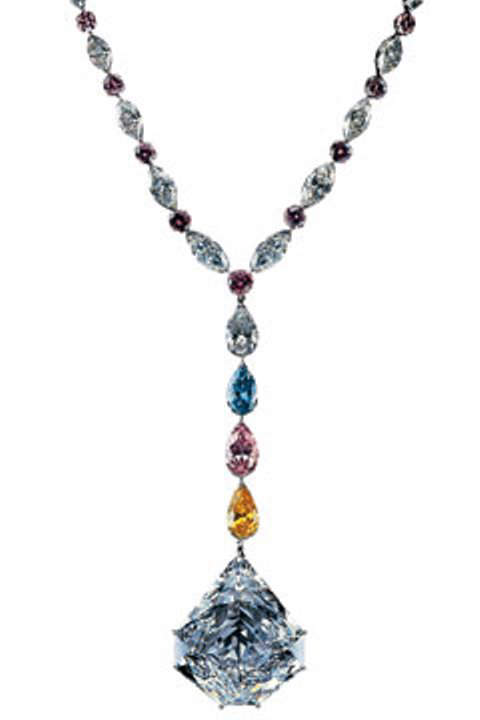 The Paragon Diamond Necklace
The finished diamond has been set as a pendant in a unique piece of jewelry, a combined necklace-bracelet setting, also created by the Graff Diamond Company, in one of their many workshops turning out handcrafted jewelry. This extraordinary necklace, which is a jewelry masterpiece, also includes several smaller diamonds of different colors such as fancy intense blue, yellow and pink. The necklace has a total diamond carat weight of 190.27 carats. The stunning Paragon Diamond Necklace attracted worldwide attention in 1999, when it was associated with the end of millennium celebrations, and was worn by super model Naomi Campbell at a prestigious diamond gala, jointly sponsored by De Beers and Italian fashion label Versace, and held at Syon House in 1999.
House of Graff, a leader in the international diamond industry
The Graff business empire was founded by Laurence Graff, the "King of Diamonds", who is said to have had a passion for diamonds from an early age. Graff is reported to have said on one occasion that diamonds always excited him and were part and parcel of his life, and that he was born to be amongst diamonds.
Graff is one of the leading diamond companies in the world today, and the name of Graff symbolizes rarity, beauty, excellence and above all the best quality and craftsmanship in jewels and jewelry. The company is involved in all stages of the diamond industry, such as mining , cutting, polishing and the designing and manufacture of exquisite handcrafted fine jewelry. The diamonds processed at the Graff workshops are sourced from the leading diamond producing countries in the world today such as Australia, Canada, Russia, South Africa and South America. The diamonds are processed in a chain of workshops, situated at important diamond trading centers around the world such as Antwerp, London, New York, and Johannesburg. Besides this Graff also has a diamond processing center and a jewelry manufacturing workshop in the Mauritius Island, in the Indian ocean, employing over 80 local craftsmen.
In South Africa, Graff has a subsidiary company known as the South African Diamond Corporation , which is engaged in mining operations. They also have their largest diamond processing factory in Johannesburg, which employs over 300 expert craftsmen. Large quantities of diamond weighing thousands of carats are cut and polished in this factory every year. Out of this enormous production only diamonds of exceptional quality, beauty, and rarity, are selected and dispatched to their London workshop, to be set in Graff's iconic jewelry. In London, Graff has the largest in-house workshop for hand made fine jewelry in the world, employing over 70 highly skilled craftsmen, who turn out magnificent jewelry for all the Graff outlets worldwide.
Graff has two specialized processing centers for the cutting and polishing of exceptionally large diamonds. They are situated at Antwerp and New York. The Antwerp factory is manned by a well trained and highly experienced team of 30 experts, and the New York factory by a team of 10 experts. These factories have processed most of the 36 world's notable and famous diamonds that are listed in the Graff website, such as, the Paragon, the Golden Star, the Star of America, the Safia, the Sarah, the Graff vivid yellow, etc.
The House of Graff has also locations in Monte Carlo, Geneva, Moscow, and Dubai. Laurence Graff, the founder of the Graff International Business Empire, has set an unsurpassed standard of excellence and innovation in the industry and it is said that more important gem quality diamonds have passed through his hands than any other living dealer. Some of the stones are centuries old and steeped in myth and history, while others have just been discovered and brought to life in Graff's own workshops.
You are welcome to discuss this post/related topics with Dr Shihaan and other experts from around the world in our FORUMS (forums.internetstones.com)
Back to Famous Diamonds,Gemstones and Pearls
Related :-