Porges Diamond
Open FREE Unlimited Store Join Our Newsletter
Origin of name
The Porges Diamond gets it's name from the renowned 19th century French diamond merchant, and diamond mining pioneer Jules Porges (1839-1921), in memory of whom the diamond was named after the famous New York diamond dealer and jeweler Harry Winston purchased it in 1962.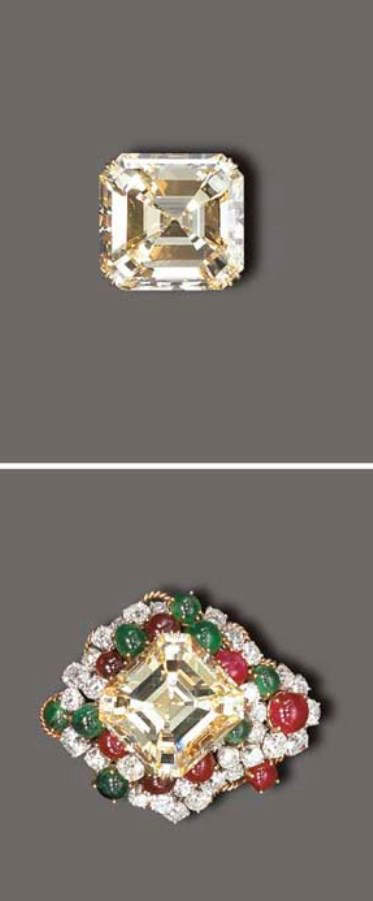 Porges Diamond
Characteristics of the stone
The diamond is a 78.53-carat, fancy yellow, SI-1 clarity, asscher-cut stone. Fancy yellow grade is a medium color grade for yellow diamonds and not so common. This coupled with the large size and unique cut of the stone makes it a notable diamond, sought after by collectors and connoisseurs of diamonds.
Being yellow, the diamond is a type I diamond, whose distinguishing feature is the presence of detectable quantities of Nitrogen (usually less than 0.1 %) in it's crystal structure. Type I diamonds are sub-divided into two depending on whether Nitrogen atoms occur in groups or scattered as single atoms. If Nitrogen atoms occur in groups the diamonds are type Ia, and if they are scattered as single atoms the diamonds are type Ib.
98 % of all natural diamonds are type Ia diamonds and type Ib diamonds are less than 0.1 % of natural diamonds. Type Ia diamonds are further sub-divided into three, depending on whether the groups of Nitrogen atoms contain 2, 3, or 4 atoms.
Type IaA - Nitrogen atoms found as groups of 2 atoms known as A-aggregates. A-aggregates do not absorb visible light and therefore do not affect the color of the diamond. A-aggregates quench fluorescence. Thus type IaA diamonds are colorless and non-fluorescent.
Type Iab - Nitrogen atoms found as groups of 4 atoms known as B-aggregates. B-aggregates do not absorb visible light and do not quench fluorescence. Thus type IaB diamonds are colorless and strongly fluorescent.
Type IaAB - Nitrogen atoms are found as A-aggregates, B-aggregates, or N3 centers (groups of 3 atoms). A and B aggregates do not absorb visible light but N3 center absorb visible light in the blue end of the spectrum giving rise to a pale to medium yellow color. They can also show various degrees of fluorescence.
Type Ib - Nitrogen atoms are scattered as single atoms and these absorb visible light in the blue end of the spectrum giving an intense yellow color to the diamonds, such as canary yellow.
From the above account it appears that the Porges diamond is most probably a type IaAB diamond.
History
The diamond is most probably of South African origin, but other details such as the mine of origin, the weight of the rough stone, the original owners of the diamond, etc. are conspicuously lacking.
Jules Porges was born in Vienna in 1839, into a prominent Austro-Hungarian family, but was brought up in Prague, the capital of Czech Republic, which in mediaeval times was known as the Kingdom of Bohemia. His father was a prominent jewelry merchant in Prague, and it was here that Jules Porges had his apprenticeship in the competitive jewelry trade. In the 1860s Jules, settled in Paris, where he eventually established himself as a prominent diamond dealer and set up the Jules Porges and Company. His business flourished and by the time diamonds were discovered in South Africa, he had amassed a tremendous fortune, and was considered to be the leading diamond merchant in the world. Porges realized the potential of the newly discovered mines in South Africa, and dispatched two of his trusted representatives in 1873, to look into the possibilities of purchasing already discovered diamonds as well as investing in the diamond prospecting and mining industry.
In 1876, Porges himself arrived in Kimberley, South Africa, and after a careful study of the ground situation, invested in the mining rights of four major mines-The De Beers mine, Bultfontein mine, Dutoitspan mine, and Kimberley mine. He also purchased already discovered rough diamonds, which he dispatched to Paris for processing. Subsequently his main interests were focused on the prolific diamond mine, the Kimberley, and he became a close associate of Cecil Rhodes. In 1888, Rhodes incorporated De Beers Consolidated Mines Ltd. and eventually persuaded Jules Porges, to sell his shares to the newly formed company. Subsequently he retired in 1890.
Harry Winston designed two different pieces of jewelry for the asscher-cut Porges diamond, a simple ring mount and a unique brooch made up of cabochon-cut emerald rubies and other old-mine cut and old-European cut diamonds, in which the Porges diamond could be mounted as the centerpiece. The Porges diamond was expected to play a dual role, depending on the circumstances. When the diamond was to be worn as a ring it was transferred to the gold ring mount, and when it was to be worn as a brooch, the diamond was made the center piece of the brooch mount.
On April 19th and 20th, 2004, the Porges diamond figured at a Christie's magnificent Jewels sale. An estimate of $ 600,000 to 800,000, was put on the stone. The diamond was put on auction together with it's unique brooch setting, the gold ring mount and a screw driver, to enable the diamond to be transferred back and forth as and when the occasion demanded.
Back to Famous Diamonds,Gemstones and Pearls