Queen of Holland Diamond
Open FREE Unlimited Store Join Our Newsletter
Origin of name
The Queen of Holland gets it's name from Her Majesty Queen Wilhelmina, the ruler of the Kingdom of Netherlands for 58 years, from 1890 to 1948. The Dutch firm F. Friedman &Company, who were the owners of the diamond during the early 20th century, selected this unique name in order to perpetuate the memory of one of the greatest rulers of modern Netherlands, during whose reign a program of accelerated development transferred Netherlands into a modern industrialized economy, after world war I, and whose policy of strict neutrality in international affairs, was rewarded by the establishment of the International Court of Justice at the Hague. The policy of neutrality was later abandoned after world war II , because it did not prevent Nazi Germany from invading Holland and occupying it in the spring of 1940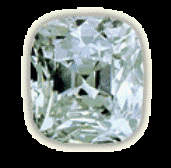 The Queen of Holland Diamond
Characteristics of the diamond
The diamond is a D-color, internally flawless, cushion-cut stone, weighing 135.92 carats. According to a list of famous D-color diamonds about which information is available, the diamond appears to be the 10th largest D-color diamond in the world.
Being a D-color diamond of exceptional clarity, the diamond obviously belongs to the type IIa category, which constitute about 2 % of all naturally occurring diamonds. These diamonds are said to be the "purest of the pure"of all naturally occurring diamonds. They are Nitrogen free or contain minute quantities of Nitrogen that are undetectable. Nitrogen is the common impurity found in almost 98 % of natural diamonds, that impart a yellow color to diamonds. The diamonds also have perfectly formed crystals, another reason for the diamond being absolutely colorless. If the crystals were plastically deformed as it happens occasionally, they would acquire a range of rare fancy colors such as pink, red, purple, brown etc. These diamonds were also not exposed to long periods of natural irradiation that would have imparted a green color to them. As such D-color diamonds are said to be chemically pure and structurally perfect diamonds.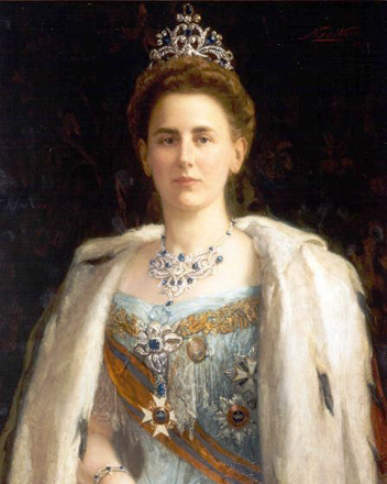 Queen of Holland- Queen Wilhelmina
Early history
The early history of the diamond such as the country of origin, mine of origin, date of discovery, the original owners of the diamond etc. are not known. The diamond made it's appearance in Amsterdam at the beginning of the 20th century. This was a period when diamonds mined in South Africa were finding their way in large quantities to Amsterdam, being a renowned diamond cutting and trading center. It is believed that the "Queen of Holland"might also have arrived in Amsterdam by similar channels. The Dutch firm F. Friedman &Co. purchased the stone and cut it into it's present shape in 1904. In the year 1925 the Dutch firm exhibited the stone at the Paris Exhibition of Arts and Industry.
"The Queen of Holland"is an exceptional quality, internally flawless, D-color diamond, with a slightly bluish tint. This is a characteristic of stones that originated in the Golconda mines, such as the Koh-i-Nur, the Orlov, etc. As such some experts believe that he "Queen of Holland"is a typical Golconda diamond. Speculation of this nature do arise in all cases of famous stones that do not have a recorded early history.
Modern History
Even though the early history of the diamond is shrouded in mystery, a definite recorded history of the diamond emerges from 1904, after the stone was purchased by F. Friedman &Co. In 1930 the diamond aroused the interest of the Maharajah of Nawanagar Shri Kumar Ranjithsinghji Vibhaji (1872-1933), an enlightened and progressive ruler who was not only a monarch but also a Statesman. The Maharajah was educated in England where he acquired his refined qualities and progressive outlook towards life. He attended Trinity College , Cambridge, between 1890 and 1893. He played for the England and Sussex cricket teams between 1895 and 1912, where he displayed his talents as a great batsmen. He was a prolific scorer of runs, and impressed all spectators by his stylish and effortless batting. He scored a total of 3,000 runs in 1899 and again in 1900, and in 15 test matches, between England and Australia he scored a total of 985 runs.
Shri Ranjithsinghji Vibhaji ascended the throne as Maharajah of Navanagar from 1907. He was a progressive ruler and Statesman, and by simplicity of his personal life, set an example to all other Maharajahs. Among his achievements were the modernization of his capital Jamnagar, development of the sea port of Navanagar, building roads, railways, and irrigation facilities. During world war I, he was a British Army Staff Officer in France, attaining the rank of Colonel. In 1920, he represented the Indian States at the League of Nations Assembly, Geneva, and in 1932 he became Chancellor of the Indian Chamber of Princes. He was knighted by King George V of United Kingdom on three occasions in 1917, 1919, and 1923.
Albert Monnickendam, the author of the book "The Magic of Diamonds"wrote in his book, how he received a phone call from the Maharajah's court jeweler in 1930, asking him to visit His Excellency at his house at Staines, outside London. He accepted the invitation, and kept his appointment with his Excellency. After having lunch with the Maharajah, Mr. Albert accompanied His Excellency, his ADC and the court jeweler to an adjoining room flooded with light from a bay window. The Maharajah explained the purpose of Mr. Albert's invitation to his residence. He said that an important diamond had been offered to him for sale, and he already consulted several experts about the diamond, but would still like to have a final opinion, before making a decision. The Prince then brought out a box and opened it, and to his amazement took out a magnificent diamond of about 130 carats, set in a pendant, and placed it in the hands of Mr. Albert, and asked him "What do you think of this?"
Albert further wrote, that he examined the stone and found it to be absolutely perfect, of the finest color and quality. In fact it resembled the famous Regent diamond in every way. While he was examining the stone, the Maharajah had been watching him with a keenness and enthusiasm of a connoisseur of diamonds, who was greatly fascinated by the stone. He told him that it came from the Russian Crown Jewels, but did not mention it's name. He was then asked to give an estimate of the stone's value and Mr. Albert put it at approximately £250,000.
The Maharajah eventually purchased the Queen of Holland, and entrusted Cartier to set it in an appropriate piece of jewelry. Cartier set the diamond as the centerpiece of a pendant to a magnificent ceremonial necklace of the Prince.
The Maharajah died in 1933, and the diamond remained with his family, until it was purchased by Cartier and sent to their London office in 1960 for sale.
William Goldberg of New York purchased the diamond in 1978, and had it slightly re-cut from 136.25 carats to it's present weight of 135.92 carats.
Final transaction and present owner of the diamond
After re-cutting William Goldberg sold the "Queen of Holland"to his partner, Robert Mouawad for a sum of $ 7 million. The "Queen of Holland"is now part of the rare and magnificent collection of diamonds of the connoisseur and collector of diamonds Robert Mouawad, founder and head of the international jewelry empire, Mouawad Jewelers.
List of D-color diamonds greater than 100 carats in weight
| | | | |
| --- | --- | --- | --- |
| S/N | Name | Carat Weight | Shape/Cut |
| 1 | Cullinan I | 530.20 | pear |
| 2 | Cullinan II | 317.40 | cushion |
| 3 | Centenary | 273.85 | modified heart |
| 4 | Millennium Star | 203.04 | pear |
| 5 | Orlov | 189.62 | rose |
| 6 | Taj-i-Mah | 146.00 | moghul cut |
| 7 | Regent | 140.64 | cushion |
| 8 | Paragon | 137.82 | 7-sided |
| 9 | Premier Rose | 137.02 | pear |
| 10 | Queen of Holland | 135.92 | cushion |
| 11 | Zale Light of Peace | 130.27 | pear |
| 12 | Niarchos | 128.25 | pear |
| 13 | Portuguese | 127.01 | asscher |
| 14 | Koh-i-Nur | 108.93 | oval |
| 15 | Mouawad Magic | 108.81 | emerald |
| 16 | Mouawad Splendor | 101.84 | pear |
| 17 | Star ofAmerica | 100.57 | asscher |
Back to Famous Diamonds,Gemstones and Pearls