Taylor-Burton Diamond
Open FREE Unlimited Store Join Our Newsletter
Origin of name
The Taylor-Burton diamond gets it's name from the renowned Hollywood actress Elizabeth Taylor and her former equally renowned husband and actor Richard Burton.
Burton lavished extravagant jewelry on Liz throughout their relationship, one of which was this extraordinary colorless diamond, which he purchased in 1969, and not being named previously, was given the rare privilege of naming it after him and his beloved wife.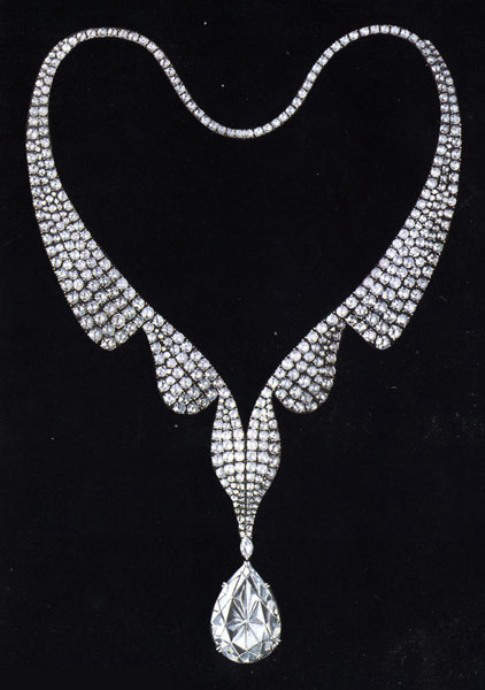 The Taylor Burton Diamond
Characteristics of the diamond
The diamond is a 69.68-carat pear-shaped, G-color, colorless stone with a clarity grade of VS-2. The current estimated value of the stone is $ 3.5 million.
Early history
The diamond was cut from a 240.80-carat rough stone discovered in the De Beers Premier diamond mine, in Transvaal, South Africa in 1966. The rough stone was purchased by Harry Winston Inc. of New York.
After the arrival of the stone in New York, Harry Winston and his cleaver, Pastor Colon Jr. made an exhaustive study of the stone, both internally and externally, that lasted about six months. The prolonged exercise was aimed at determining the exact cleavage plane, along which the diamond could be cleaved, in order to get two pieces, that could be subsequently cut and polished into the ideal products, with the minimum of flaws and inclusions. Having decided on the cleavage plane, markings were made to indicate the same. Finally, on the appointed day and time, under the glare of television lights, and amidst the usual tension associated with such a delicate operation, the stone was cleaved into two, a smaller piece of 78 carats and a larger one of 162 carats. According to the projections the 78-carat piece was expected to be transformed into a finished diamond of about 24 carats, and the 162-carat piece would have metamorphosed into a pear-shaped stone of around 75 carats. The faceting and polishing of each of the pieces then began in earnest, and the 162-carat rough was eventually transformed into the 69.68-carat, pear-shaped, flawless, and colorless diamond.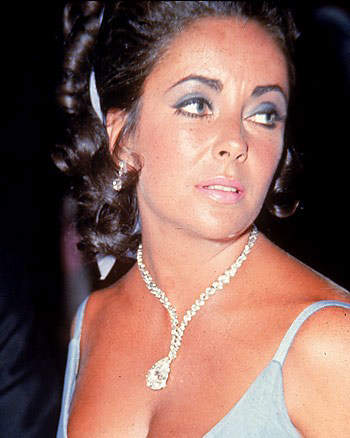 The Taylor Burton Diamond
In 1967, Harry Winston Inc. sold the diamond to Mrs. Harriet Annenberg Ames, the sister of Walter Annenberg, former ambassador of the United States of America in the United Kingdom, during the tenure of Richard Nixon as President. But, Mrs. Harriet did not enjoy owning the diamond for long. Whenever she wore the ring in which the diamond was set, she was overcome by a fear, that someone would detect the diamond, and attempt to snatch it away from her, given the enormous value of the stone. She was tended to keep her gloves on always for fear of exposing the diamond. She said that being an extremely sociable individual, she did not enjoy that feeling. Therefore she decided to keep the diamond in a vault, and finally made up her mind to dispose of it, as it seemed foolish to keep it, if she could not use it freely. Thus two years after she purchased the stone, she sent it to Park-Bernet Galleries in New York to be auctioned on her behalf.
The diamond was put up for auction on 23rd October, 1969, with the provision that whoever buys the stone, would have the privilege of using his or her name to christen it .Before the actual sale, speculation was rife in the media as to who would bid for the stone. Several international names were mentioned, including that of Elizabeth Taylor and her husband Richard Burton. In fact the diamond was flown from New York to Switzerland and back under tight security precautions, in order to enable the celebrated couple to have a preview of the diamond.
The auction house was packed with all the well known figures in the international gem and jewelry trade or their representatives. The bidding began with the initial figure of $200,000 announced by the auctioneer. The bidding process was competitive, and the price of the diamond steadily increased until it reached $500,000. Subsequently the bids increased by $10,000 each time until the price of $650,000 was reached, when only two bidders still showed any interest. They were Al Yugler, representing Richard Burton, and Robert Kennan, the chairman of the Board of Kenmore Corporation, the owners of Cartier Inc. When the bidding reached $1,000,000 Al Yugler dropped out and the auctioneer brought down the hammer in favor of Robert Kenmore, for the record price of $1,050,000. After the successful bid Kenmore named the diamond "Cartier."The previous record for a jewel was set in 1957, when a diamond necklace from the Rovensky estate was sold for $305,000.
It is interesting to note that besides Richard Burton, there was another famous under bidder at the sale. This was none other than Harry Winston who was the original owner of the diamond. Burton, in spite of loosing out at the competitive auction, did not loose hope , and was determined to acquire the diamond at any cost in order to lavish it on his loving wife. Therefore he opened direct negotiations with the agents of Cartier. and eventually Robert Kenmore agreed to sell the diamond to the Burtons for a price of $1,100,000 on the condition that Cartier was allowed to display it in New York and Chicago. Cartier's made a profit of $50,000 on this transaction, and they agreed the diamond to be renamed Taylor-Burton.
At the exhibition of the diamond in New York, it was reported that more than 6,000 people a day flocked to review the million-dollar diamond. The original setting of the diamond was a ring, but Elizabeth thought it was too big and had it re-set in a necklace designed by cartier, featuring a number of smaller pear-shaped diamonds. The necklace was flown from New York to Nice, in the company of two armed guards hired by Cartier and Burton. Elizabeth Taylor wore the Taylor-Burton in public for the first time when she attended Princess Grace's 40th birthday party in Monaco, and she often wore it with the ring bearing the Krupp diamond. In the year 1970 she wore both the Taylor-Burton and the Krupp diamond for the annual Academy Awards ceremony.
Later history
The relationship between Elizabeth Taylor and Richard Burton was characterized as a fire-and-ice relationship, which began on the sets of Cleopatra in 1961, while both of them were married to others at the time. The passionate and intense love between the two actors was clearly evident to all those who worked on the movie sets. Eventually, Burton divorced his wife Sybil Williams and Taylor divorced her husband Eddie Fisher. The two of them finally got married in 1964. Even though their marriage did not go down well with their fans, and sent sensational shock waves around the world, the intensity of the love between them was undeniable.
As a devoted husband, who was passionately in love with his wife, Burton lavished extraordinary jewelry on Liz, throughout their relationship. Burton's attachment to his wife was so intense that at one time he said, "I cannot see life without Elizabeth. She is my everything-my breath, my blood, my mind and my imagination."Some of the expensive jewelry which Burton presented to Liz include the following :-
(1) A Bulgari pendant set in platinum with an 18.61-carat emerald surrounded by diamonds. This was the first piece of jewelry used by By Burton to propose to Taylor.
(2) The 33.19-carat, Asscher-cut Krupp diamond set in a platinum ring which Burton purchased for US $305,000 at a Sotheby's auction in 1968.This had formerly been part of the estate of Vera Krupp, second wife of the steel magnate Alfred Krupp. This is the only piece of jewelry she wears constantly in her hand, and she seems to have a strong personal attachment to the Krupp Diamond. She had been seen wearing it in a number of her post-1968 films. She was also seen wearing it on CNN's Larry King LIVE in 2003.
(3) The tear-shaped La Peregrina Pearl, which Burton purchased for £15,000.The pearl was originally discovered by a slave in the Gulf of Panama in 1500s and given to Spain's Prince Philip 11,who later offered it as a wedding present to Queen Mary Tudor of England.
(4) But the most outstanding of all the gifs that Liz Taylor received from Burton, was the 17th century heart-shaped Taj Mahal diamond, given to her on her 40th birthday in 1972. The stone is fairly large and flat, with an Arabic inscription on either side. It is set with rubies and diamonds in a yellow gold necklace. This gift was indeed a symbol of the affection and true love shown by Burton to his wife Liz Taylor, just as much as the same stone given as a gift by Emperor Shah Jahaan to his beloved second wife Mumtaz Mahal in the 17th century symbolized the true love and affection of the emperor towards his beloved. The Taj Mahal that Emperor Shah Jahaan built after Mumtaz Mahal built died in 1631, immortalized their great relationship. "I would have liked to buy her the Taj Mahal ,"Burton remarked ,"but it would cost too much to transport. This diamond has so many carats, it's almost a Turnip."then he added "Diamonds are an investment. When people no longer want to se Liz nd I on the screen ,then we can sell off a few baubles."
Sadly the relationship between Burton and Liz was short lived, and lasted only for about 10 years. The couple divorced in 1974,but reconciled an year later, and re-married in 1975. However the second marriage too broke up in 1976.
Taylor and Burton appeared together in 10 films, and even after their divorce, in the play "Private Lives,"in 1983.
Burton died in Switzerland in 1984, and it is said that up to this day Liz Taylor wears the 33.19-carat Krupp diamond given to her by Burton as a symbol of his undying love for her. It appears that in spite of their separation, Liz Taylor's love for Richard Burton has not waned, and it is said that she has made plans for her ashes to be scattered in Burton's homeland of Wales upon her death and cremation, If ever there was a couple about whom it could be said, "they couldn't live with or without each other."it may well have been Elizabeth Taylor and Richard Burton.
In October 2002, Christie's of New York organized an exhibition of 30 personally selected pieces from Liz Taylor's renowned personal collection of Jewelry to coincide with the release of her book, "Elizabeth Taylor- My Love Affair With Jewelry."
The 33.19-carat Krupp diamond took pride of place out of all the exhibits, and in her book Taylor says, "It was owned by Vera Krupp of the famous German munitions family which helped knock off millions of Jews. When it came up for auction in he late 1960s, I thought how nice it would be if a nice Jewish girl like me were to own it ."Taylor converted to Judaism, to marry her fourth husband Eddie Fisher.
Simon Teakle, the head of Christie's jewelry department in New York, says , that due to her strong personal attachment to the Krupp diamond, it was an extremely difficult task, persuading Taylor to include the diamond among the exhibits. It is well known that she wears the diamond set in a ring, constantly in her hand, and it was with the utmost difficulty, that they eventually persuaded her to remove the ring out of her hands for a few weeks.
Simon Teakle rates Taylor's collection of jewels as extremely important and containing pieces, that could stand on an equal footing, with any other collection in the world. "Burton had a wonderful eye . A totally natural eye for quality items,"Teakle said.
Burton's generosity towards his wife was boundless and not limited to special birthday or Christmas gifts. "He'd give me, "Its Tuesday I love you,"presents, "It's a beautiful day,"presents, "Lets go for a walk, I want to buy you something,"presents, etc."Taylor reveals in her book.
The other highlights of the exhibition were the tear-shaped La Peregrina Pearl, and the 17th century heart-shaped Taj Mahal diamond.
The only piece of jewelry, bought by Taylor herself, was a diamond brooch in the design of the Prince of Wales insignia, that the actress purchased during an auction of jewelry ,belonging to the late duchess of Windsor, Wallis Simpson.
Liz Taylor has disposed of some of her collections of jewels, to raise funds for charitable purposes. At an auction held just before the exhibition, at Christie's, she disposed of an emerald and diamond ring given by Burton, for $ 80,000,and the proceeds were credited to Taylor's favorite Aids Charity
Last transaction and present owner of the diamond
In 1978, Elizabeth Taylor sold the Taylor-Burton diamond, and donated the proceeds to help build a hospital in Botswana, South Africa. "I have never thought of my jewelry as trophies,"Taylor said, "I'm just here to take care of them."Henry Lambert, the New York jeweler was reported to have purchased the Taylor-Burton diamond, for a sum of $ 5,000,000. In December 1979, Lambert had sold the stone to it's present owner Robert Mouawad, who had the stone slightly re-cut to it's present weight of 68.07 carats. The Taylor-Burton is presently the 10th largest diamond in the rare and magnificent collection of diamonds belonging to the Mouawad family
Chemistry of colorless stones
Diamond is a crystalline form of Carbon, in which the crystal unit consists of a carbon atom surrounded by four equidistant carbon atoms at the four corners of a regular tetrahedron. All four valances of the carbon atom are used up in this bonding. This crystal unit is repeated indefinitely, resulting in the formation of a giant molecule. Diamond crystallizes in the Isometric crystal system forming cubic or octahedral crystal forms.
Diamond crystals without any impurities, and structurally perfect, without any deformations are absolutely colorless. But. such diamonds are rare consisting of only 1-2 %of all natural diamonds.
Almost 98 % of all natural diamonds contain trace amounts of Nitrogen (less than 0.1 %) as impurity, which imparts a yellow color to the diamonds. The yellow color can vary from a slight yellowish tint to an intense yellow depending on the concentration and distribution of the Nitrogen atoms.
If Nitrogen atoms are distributed as aggregates of 2 atoms or 4 atoms the color of the diamond is not affected, as these aggregates do no absorb visible light. But, if Nitrogen atoms are scattered as single atoms or as aggregates of 3 atoms, which absorb light in the blue end of the spectrum, it imparts a pale to intense yellow color to the diamonds.
Thus colorless diamonds can be either absolutely colorless in the absence of Nitrogen impurities or the can be colorless with Nitrogen atoms present as aggregates of even numbers such as 2 or 4 atoms.
Back to Famous Diamonds,Gemstones and Pearls