Click here to go to Part II
Part III of the introduction to instruments used in gemology covers microscopes, ultraviolet lamp, heavy liquids, hardness pencils and weighing scales.

7) Microscopes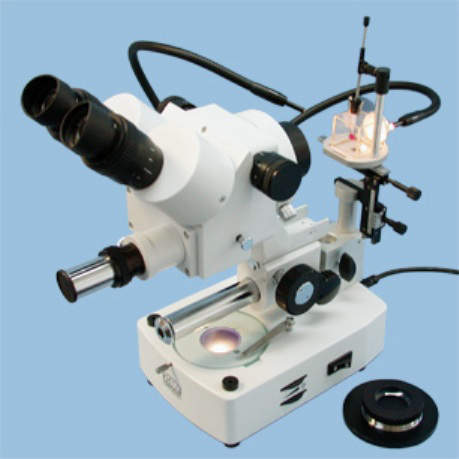 Kruess Optronic Diamond and Gemstone Microscope with inbuilt fiber optic light source.This microscope can be used for gemstone analysis with immersion technique.
The microscope is probably one of the most widely used and an important gem testing instrument. The microscopes used in gemology are modern binocular microscopes that are specially made for the gemstone and diamond industry. The microscope is also probably the most widely used gemological instrument for research purposes.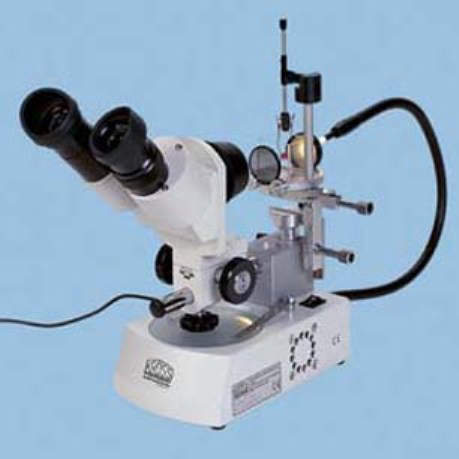 Kruess Optronic Diamond and Gemstone Microscope with inbuilt fiber optic light source. This microscope can be used for gemstone analysis with immersion technique.
The zoom capabilitiy of a microscope used in gemology ranges from 10X to 90X magnification. 45X is sufficient for most gemological purpose. Ideally microscopes must be handled with care because they are very expensive.
The ideal gemmological microscope should be a binocular microscope with dark and light feild illumination. Other characteristics of a good gemological microscope include overhead illumination, adjustable iris and an integrated stone holder.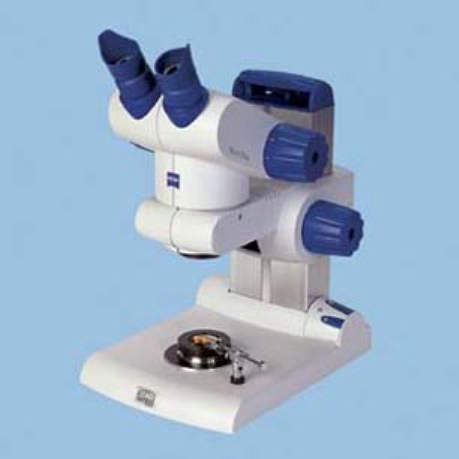 Kruess Optronic Diamond and Gemstone Microscope
The basic parts of a microscope are illustrated in the figure below. Some binocular microscopes do not have a zoom feature are are less expensive, in these microscopes the eye pieces (Oculars) need to be exchanged for magnification to go from eg 10X to 30X to 60X.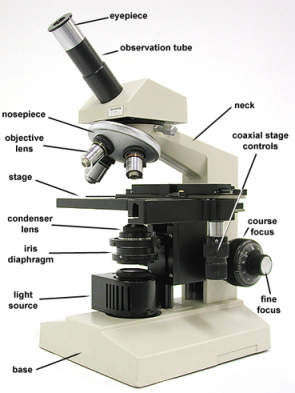 The photo above is a biological compound microscope. It is not a gemological microscope. It is for illustrative purpose only.
© University of New Mexico (UNM)
Basically the parts of a microscope can be divided into two a mechanical section and an optical section. The mechanical parts are made up of the base, vertical limb and the stage. The vertical limb has the focus adjustments such as the knob. The stage has the diaphragm to control the light. The optical section is made up of the lenses (two eye pieces and compound lenses- the objective lens).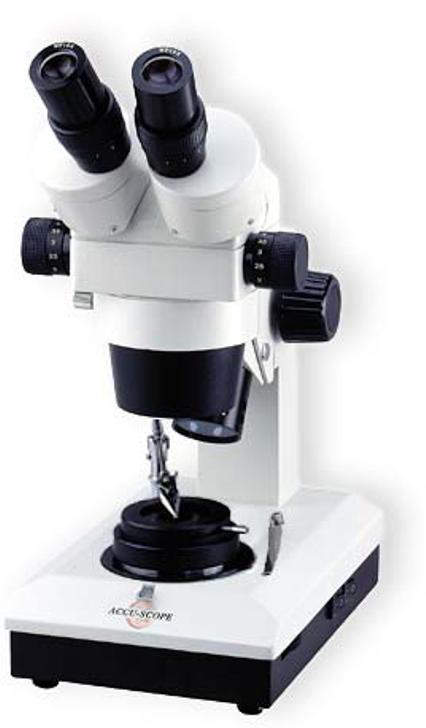 Accu-Scope Stereo Microscope for gemstone testing.
Uses of a microscope:
It has a very powerful magnification. It is more useful than a 10X lens to study the external and internal conditions of a gemstone. Therefore the characteristic inclusions in a gemstone can be easily determined. In many cases the authenticity of a gemstone is derived from their characteristic inclusions.
A microscope can also be used to identify surface enhancements like diffusion treatment, coating and foiling. the quality of the cutting of a gemstone and the quality of a jewellery setting can be easily determined by a microscope.
With little modification a microscope can do the work of refractometer and a spectroscope. It can be used to distinguish single refractive gemstones (eg spinels and garnets) from double refractive gemstones with similar appearance (eg blue sapphire).
By observing the inclusions in a gemstone on a microscope, you may be able to:
i) Differentiate natural gemstones from their synthetic counterpart. Many natural gemstones have characteristic inclusions.
ii) Identify heat treated gemstones because in heat treated gemstones there will be alterations anddamage to the original inclusions.
iii) Identify the origin of the gemstone. eg Sri Lankan sapphires have typical 'feather' like inclusions.The local gem traders refer to these inclusions as 'tharasama'. Local dealers identify sapphires based on the presence of 'tharasama'. Other characteristic inclusions of Sri Lankan sapphires are zircon haloes, finger print type inclusions and needle-like inclusions.
Types of Illumination in a Microscope
There are different types of illumination in a microscope. In a gemological microscope different types of illumination are used for different purpose.
i) Pinpoint-source illumination
You can reduce the light source in an adjustable iris to a small pinpoint opening in a diaphragm. With this type of illumination you can easily spot structures inside the gemstone such as curved striae. In the 'shadowing technique' the diaphragm is opened to just less than the diameter of the gemstone.
ii) Light field illumination
Here light enters directly from below. Inclusions are seen as dark objects against a bright background.
iii) Darkfield illumination
Here light is reflected before reaching the gemstone. A dark plate covers the direct bright light from the illumination.
This is the most widely used type of illumination in gemmology. It is also the best type of illumination to view inclusions in a gemstone as the inclusions will stand out bright against a black background.
iv) Horizontal illumination
A pen torch or fiber optic light could be used for this type of illumination.
The light is directed horizontally into the stone. Tiny inclusions and gasbubbles can be seen clearly with this technique.
v) Overhead illumination
Overhead illumination is provided by daylight table lamps. These are fluorescent lights.
This type of illumination is the best to observe the external features on a gemstone such as polishing marks, faceting quality,pitting, chipping etc.
vi) Diffused illumination
This is the best lighting technique to observe color zoning and color banding.
A diffusing material such as tissue paper, frosted plastic or frosted glass plate is placed over the bright light illumination. This will make the light to become scattered and softened.
vii) Oblique illumination using fiber optic light
A fiber optic lightsource allows you to focus light to parts of the gemstone where you need it most. This is very useful when you want to view inside the gemstone.
A fiber optic light source can also be used with other instruments such as a refractometer and spectroscope.
viii) Polarized illumination
If polarization filters are put in place, the microscope becomes a polarizing microscope. A polarizing microscope can do the work of a polariscope with the added benefit of magnification. It can be used to determine the optic character and sign, pleochroism and strain on a stone.
8) Ultraviolet Lamps
Ultraviolet light refers to light of short wavelength below the visible spectrum. Ultraviolet light is below 4000Å amstrong units while visible light ranges from 4000Å to 7000Å (Violet to red).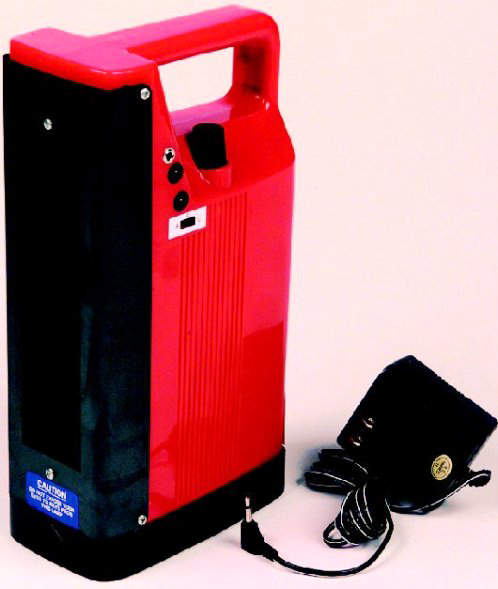 Portable Ultraviolet Lamp, Raytector by Raytech.
Ultraviolet lamps both portable and laboratory are available in the market. Some ultraviolet lamps come with inbuilt viewing cabinets.
The useful range of ultraviolet (UV) light ranges from 4000Å to 2000Å. This is sub divided into two broad divisions, long wave ultraviolet (LWUV)- 4000Å to 3000Å and short wave ultraviolet (SWUV)- 3000Å to 2000Å.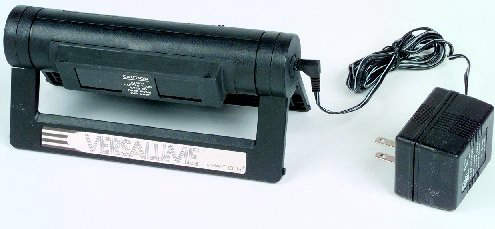 Versalume Compact and Portable Ultraviolet Lamp by Raytech
Procedure:
The gemstone to be tested should be observed under ultraviolet light. Ideally the stone should be placed in a dark viewing cabinet. Some gemstones show a cold glow effect known as flourescence. If it does not glow it is inert to UV light.
In some gemstones the glow effect continues for some time even after switching off the UV lamp. this phenomenon is known as phosphorescence.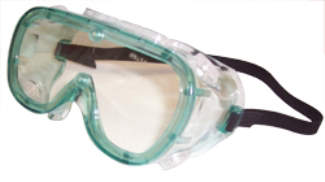 Ultraviolet Blocking Goggles for blocking UV Light, which is harmful to the eyes.
Ultraviolet is very harmful to your eyes. It is highly recommended that you use ultraviolet blocking googles. Avoid looking directly at the ultraviolet light source.
Some types of treatement done on a stone could be detected by UV lamp. It may also be useful to distinguish between natural and synthetic gemstone. Ultraviolet lamp tests are not confirmatory tests, but indicative tests.
Ruby gemstones display a strong red color in Short wave UV and red color in long wave UV. Moonstones display a pinkish glow in Short wave UV and inert in long wave UV.
Fluorite gemstone shows a strong violet color in Short wave UV and violet in long wave UV. Synthetic blue spinel shows a chalky blue color in Short wave UV and strong red in long wave UV.
Natural blue sapphire is inert to both short and long UV. Synthetic blue sapphire displays a chalky glow to short UV and is inert to long wave UV. Synthetic color changing sapphire shows chalky orange in Short wave UV and violet or orange in long wave UV.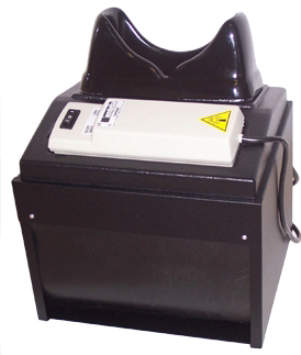 Ultraviolet Lamp and Viewing Cabinet
The ability of minerals to emit light when acted upon external factors or irradiation is called luminescence. Photoluminescence is the type of luminescence exhibited when the mineral is exposed to ultraviolet or visible light rays.
Luminescence an important phenomenon of minerals will be covered in detail on another page.
9) Heavy Liquids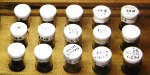 A set of heavy liquids for gem testing
The approximate specific gravity of a gemstone can be determined by using a set of heavy liquids. The specific gravity of the set of heavy liquids is known (eg Bromoform- density 2.88 and Methylene Iodide- density 3.33). The specific gravity of both rough and cut gemstones can be determined using this method.
In this test the gemstone is observed as it is placed in heavy liquids of different specific gravity.The stone is gently placed in the solution using a tweezer, observe the gemstone from the side of the bottle.If it floats in the liquid, this indicates that the specific gravity or density of the gemstone is less than that of the liquid. If the gemstone sinks to the bottom of the container the gemstone has a greater specific gravity than that of the liquid. If the gemstone remains suspended in the liquid the specific gravity is almost equal to that of the heavy liquid. A floating stone should be tapped with the tweezers to make sure that the stone is not held at the surface due to surface tension. The stone should be taken out using a tweezer and rinsed in a large beaker filled with clean water. It is risky to rinse the gemstone on the tweezer under streaming water as the stone might fall off and go down the drain.
An important limitation of this test is that only small gemstones eg 1 carat can be tested.
Disadvantages of using heavy liquids to determine the specific gravity:
i) This method cannot be used for porous gemstones eg pearls, turquoise and opal.These porous gemstones may absorb liquids that may damage the stones.
ii) An accurate numerical value of a gemstone cannot be determined using this method.
iii) The specific gravity of drilled and mounted stones cannot be determined by using this method.
iv) Temperature variations may affect the procedure due to sensitivity of the liquid to temperature variations, eg stones which are just floating in the liquid may sink if the beaker is warmed in the hand.
Hazards of using heavy liquids:
Most of the heavy liquids used are toxic. All contact with the skin and other parts of the body such as the eyes should be avoided. If your skin comes incontact with any heavy liquid it should be washed thoroughy with large amounts of water.
If heavy liquids get splashed into your eyes, rinse immediately with large quantities of streaming water and contact your medical doctor immediately.
Heavy liquids should be kept away from children and pets.
Avoid inhaling andsniffing heavy liquids. Always use heavy liquids in well-ventilated environments.
Examples of Heavy Liquids:
The most commonly used heavy liquids are Methylene Iodide, Methylene Iodide diluted with Toluol ,Bromoform and Bromoform diluted with Toluol.
i) Methylene Iodide (CH 2 I 2 ) has a specific gravity of 3.3. It is also called di-idiomethane. Citrine- SG 2.65 will float in this liquid while yellow topaz- SG 3.5 will sink in this liquid. Methylene Iodide is light yellowish brown when fresh but darkens on exposure to sunlight due to the release of iodine.A piece of tin or copper should be placed in the liquid to reduce the discoloration of the liquid.
ii) Methylene Iodide diluted with Toluol has a SG of 3.05. Tourmaline (SG 3.05)will suspend in this liquid while topaz SG 3.5 will sink in this liquid.
iii) Bromoform: Undiluted bromoform has a S.G of 2.85, it can also be calibrated to a lower S.G with the addition of toluol. Bromoform becomes dark when exposed to light due to the release of bromine. A small amount of mercury should be added to decolorize it.
iv) Diluted Bromoform: Bromoform is diluted with toluol to a S.G of 2.65. The indicator stone for this specific gravity is quartz.
v) Sodium Polytungstate: is a commercially available non toxic and odour free alternative for most heavy liquids. It comes as a white powder to which water can be added. Its Specific gravity at saturation is 3.10, but can go down to whatever S.G (<3.10) by adding water.
vi) Clerici solution: This is a highly toxic solution (corrosive as well as poisonous). It has a S.G of 4.2. It can be diluted with water to 4.0 (corundum) or for diamond (S.G 3.52). It is a mixture of thallium malonate and thallium formate in water. It is not recommended for general use.
vii) Lithium Metatungstate(LMT) : Is a freely available heavy liquid whch is also safe to use. Its solution is sold at a specific gravity of 2.95 but can bediluted with distilled water to a S G of 1.0.
What are Indicator Stones?
These are gemstones of known specific gravity that are used to calibrate/ chech if the SG of a heavy liquid has changed due to evaporation of the liquid.
i) Bromoform diluted S.G 2.65- The indicator stone is quartz.
ii) Pure Bromoform S.G 2.88
iii) Methylene Iodide diluted S.G 3.05- The indicator stone is tourmaline.
iv) Pure Methylene Iodide S.G 3.33
v) Clerici solution-diluted S.G 3.52- The indicator is diamond.
vi) Clerici solution -diluted S.G 4.00- The indicator is corundum
Here is an exampe to illustrate the use of indicator stones: To make a heavy liquid to the desired SG of 2.65 we will use the following procedure:
The solution would have to be a mix of Ethylene Dibromide (S.G 2.18) and Bromoform (S.G 2.88). A quartz gemstone (S.G 2.65) is inserted into a solution of ethylene dibromide (S.G 2.18). The indicator stone would sink. Bromoform should be added with constant stirring until the indicator stone suspends freely in the liquid.
Commercially available indicator stones made from glass are available in the market.
10) Hardness Pencils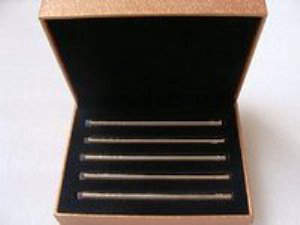 A set of hardness pencils by
Shenzhen Fable Jewellery Technology Co. Ltd
Hardness pencils are used to determine the hardness of a gemstone. At one end of the pencil a material of known hardness is attached to it (eg rough corundum or Mohs harness scale of 9).
A wide range of hardness pencils are available in the market. Some hardness pencil sets can test a range of 2 to 10 while others can test from 5 to 10 etc.
Basically the pencil hardness test is a scratch test, where a pencil with a greater hardness can scratch a gemstone with a lower hardness.
One should gently scratch the gemstone begining with a pencil with the lowest hardness. A pencil with a lower hardness would not be able to scratch a gemstone that is harder than the pencil. Continue to test the gemstone with pencils of increasing hardness, till you get a pencil that can scratch the gemstone.The scratch should be examined using a 10X lens to make sure it is a scratch and not material from the hardness pencil itself. The Mohs hardness grade of the pencil that can scratch the gemstone will be equal to the hardness grade of the gemtone.
This test is usually used for rough gemstones, but it can also be used for cut and polished gemstones. Unfortunately these pencils candamage a cut gemstone, therefore special care should be taken for high quality gemstones. When testing a cut gemstone use the girdle area of the gemstone.
11) Weighing scales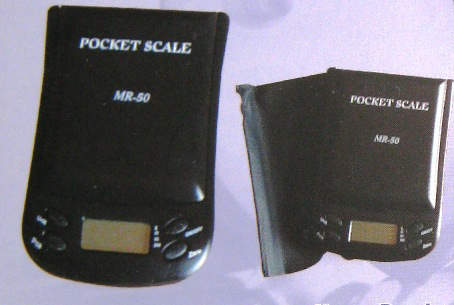 Pocket weighing scales
Strictly speaking weighing scales are not specialized instruments used in the gemstone and jewellery trade. However weighing scales are so important that gemstone and jewellery business cannot be done without it.
There are many types of weighing scales in the market. Most weighing scales used these days are modern accurate digital weighing scales.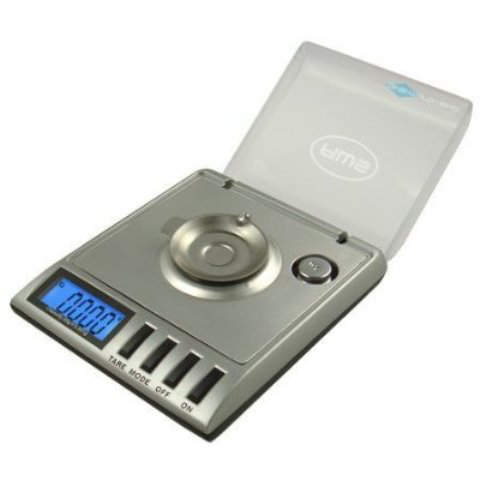 Gemini-20 American made portable weighing scale
There are many types of weighing scales in the market. There are also portable weighing scales in the market. Weighing scales that can display the weight in 'carat' units are preferred for use in the gemstone industry. A 'carat' is 1/5th of a gram. A carat can also be divided into 100 points. Most weighing scales give the weight in two or three decimal places.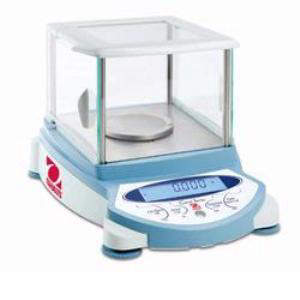 Ohaus AV264CN Carat Series Diamond Balance
Ideally a weighing scale should be covered by a glass or plastic lid to prevent draughts from affecting the reading.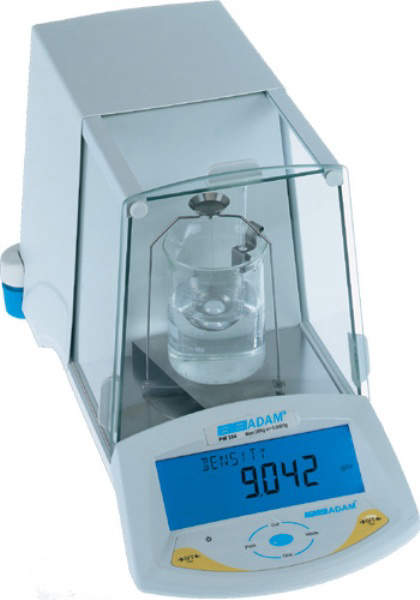 Modern digital weighing scales (by Adam PW 254) ) that can be used to determine the specific gravity and density of gemstones.
Weighing scales are also very useful in determining the specific gravity (S.G) of a gemstone using the hydrostatic weighing method (see image above).The hydrostatic method uses the formula that is based on the Archimedes principle.The weight of the gemstone in air and the weight of the gemstone in water should be known. This will be explained in detail in our article on specific gravity of gemstones.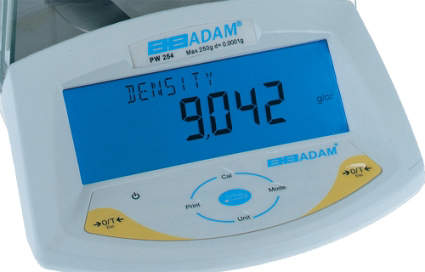 Display panel of a Modern digital weighing scales (by Adam PW 254) )
Click here to go to Part IV of the introduction to instruments used in gemology
You are welcome to discuss this post/related topics with Dr Shihaan and other experts from around the world in our FORUMS (forums.internetstones.com)
Our Twitter Updates