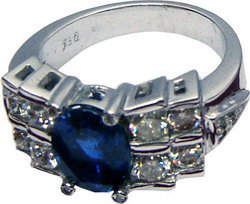 Attractive bridge ring with high quality large Ceylon blue sapphire and diamonds set in 18ct white gold.
Specifications:Total weight 12g.Weight of blue sapphire 2.54ct.Weight of diamonds 91 points.
This is an attractive bridge ring with a high quality Ceylon blue sapphire in the center and two rows of diamonds on either side.
Item No: R209

You are welcome to discuss this post/related topics with Dr Shihaan and other experts from around the world in our FORUMS (forums.internetstones.com)